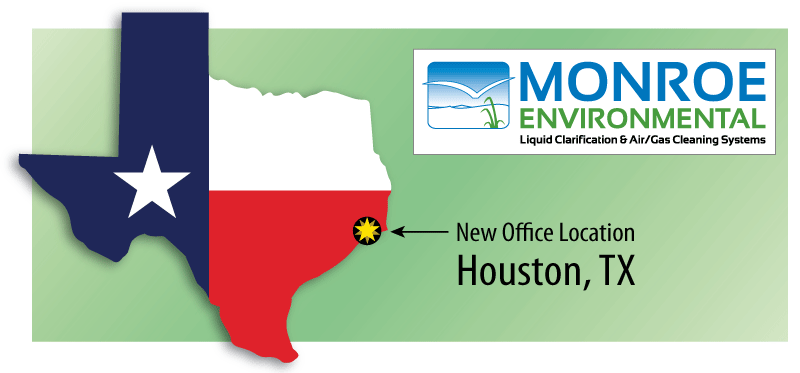 Monroe Environmental Opens Texas Office
Dated: February 15, 2018
Houston, TX – Monroe Environmental Corp. has officially opened its new office location in Houston, TX. The office will serve as the company's hub in the gulf coast region, providing engineering, sales, and service support to Monroe's many customers both existing and new.
Monroe has many successful installations in Texas, Louisiana, and the surrounding area including ExxonMobil, Marathon Petroleum, Shell, Flint Hills Resources, Haldor Topsoe, Firestone Polymers, Caterpillar, Akzo Nobel, Albemarle, Whitmore's, Blue Knight Energy, Swiftwater Energy Services, Enterprise Products, Westlake/Axiall, Frito-Lay, Nalco/Ecolab, Jacobs Engineering, AECOM, AMEC, S&B Engineers, and many others.
"We are very excited to be firmly established in Texas so that we can further support our existing customers and continue to provide the highest quality environmental systems for the many plants in the region," says Gary Pashaian, President of Monroe Environmental. Gary is leading the effort to expand the company's presence in Texas, and works out of the new office himself. "It's an exciting time for our company as we continue to grow. We have a lot to offer with our decades of experience and the expertise of our engineering staff. Our goal is to have many satisfied customers who see us as a reliable partner for their environmental projects."
Monroe Environmental has been in business for over 45 years, engineering and manufacturing air pollution control and water and wastewater treatment equipment for many of the largest plants in the world. Throughout their history, they have helped provide clean water and clean air for factories, workers, and communities along the Gulf Coast, throughout North America, and around the globe. Monroe Environmental is headquartered in Michigan and is an ISO 9001 and ISO 14001 registered company.
For more information about Monroe Environmental, please visit their website, http://www.mon-env.com, call 800-992-7707 (Michigan office); 281-222-0862 (Texas Office), or email them at sales@mon-env.com.