Monroe Environmental is committed to satisfactorily serving all of our customers, both old and new. If you have a service need for an existing Monroe unit, or would like us to evaluate a competitive (non-Monroe) unit at your site, please contact us. We would be happy to assist you with evaluating and upgrading the environmental equipment and workplace conditions at your plant. We also offer preventative maintenance packages which can lower your total operational costs and prevent costly equipment failures.
Monroe Environmental's On-Site Services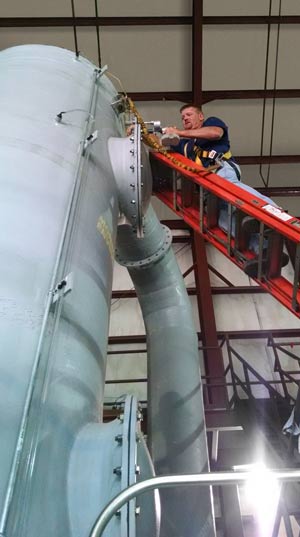 Monroe Environmental offers the following on-site services to assist in executing an environmental project at your plant. You'll find that we totally support our customers on an ongoing basis — it's just how we do business.
Preventative maintenance and emergency service
Equipment installations
Start-up assistance
On-site troubleshooting
Site evaluations
Equipment inspections
Process assessments
Analysis and recommendations
Tune-ups, re-calibration, and retrofit services
Replacement parts
Lower Your Operational Costs
One of the most effective ways to reduce operational and maintenance costs is to implement a preventative maintenance plan for your equipment — and Monroe Environmental can help!
Preventative maintenance provides substantial long-term savings for your company and is an extremely effective way of maintaining and extending equipment service life. It keeps your equipment from experiencing major breakdowns and catastrophic failures. The failures can interrupt production resulting in costly losses to the company's bottom line. Rental equipment and emergency service calls are additional large expenses that result from failures. A preventative maintenance plan offers the following advantages:
Lowers overall operational cost
Reduces maintenance personnel overtime costs
Lowers power consumption — saving money on electricity and other utilities
Prolongs useful life of equipment
Reduces frequency of major repairs
Increases productivity and reduces downtime
Improves performance and maximizes equipment efficiency
Monroe Environmental has experienced and trained technicians responsible for diagnosing, repairing, and performing preventative maintenance on our equipment. Be proactive and increase the life of your equipment. Contact Monroe Environmental for a customized maintenance contract prepared specifically for your equipment and company.