Physical and chemical adsorption of VOCs and other gas-phase pollutants
Monroe Environmental manufactures Carbon Adsorbers for both physical and chemical adsorption of gas-phase pollutants. Adsorption involves the adhesion of pollutant gas molecules to porous solid surfaces that the contaminated air stream passes through. Monroe's Activated Carbon Dry Adsorber is highly efficient for removal of oil vapors, H
2
S and other odors, VOCs, and gas phase hydrocarbons.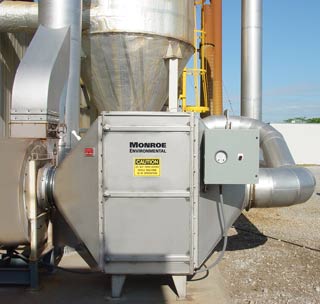 Adsorption involves the adhesion of pollutant gas molecules to porous solid surfaces that the contaminated air stream passes through. Physical adsorption relies on intermolecular forces while chemical adsorption involves the formation of chemical bonds. Monroe's Activated Carbon Dry Adsorber is highly efficient for removal of oil vapors, H2S and other odors, VOCs, and gas phase hydrocarbons.
Monroe offers complete in-house fabrication and engineering services for adsorbers employing several different adsorbent materials in regenerative or non-regenerative bulk-packed fixed bed designs and non-regenerative filter bed designs. Our staff of engineers and designers will evaluate each application individually and determine the optimum design parameters for each installation.
Overview of Carbon Adsorber Types
Deep Bed Adsorber: in horizontal or vertical configuration with a single deep bed or multiple beds in series within the adsorber vessel.
Parallel Bed Adsorber: airflow passes between two parallel beds in horizontal or vertical configuration, allowing higher airflow because there is a large passageway for initial contact of gas with one of the adsorbent beds.
Multiple Adsorber Vessel System: two or more separate adsorber vessels allow for air flow to be directed through one or more vessels for adsorption of contaminants while the other vessel or vessels are regenerated with steam, allowing for uninterrupted adsorption and regeneration.
Carbon Tray Adsorber: flow passes through several removable carbon trays in parallel. Each tray contains activated carbon pellets and may be removed and refilled when pellets are saturated.
Carbon Filter Adsorber: Air flow is directed through pleated or canister style filters that are easily replaced when saturated.
Carbon Adsorber Design Features
Wide range of adsorbents: carbon, zeolite, synthetic polymers
Capacities to 50,000 CFM for a single unit
Efficiencies to 99.9%
Construction available in mild steel, stainless steel, PVC, FRP, and other materials
Complete instrumentation and electrical controls available
Corrosion resistant AMCA rated fan on the inlet or outlet side of the adsorber, if required
Carbon Adsorber Applications
VOC removal and solvent recovery

Industrial emissions from: degreasing, paint spraying, paper coating, plastic film coating, metal foil coating, rubber-coating, and printing

Removal of H

2

S and other odors from municipal wastewater treatment plant sources including headworks, digesters, and sludge dewatering operations
Recent Case Studies
LindaVH
Monroe Environmental designed and built a 10,000 CFM multiple-tray Carbon Adsorber to filter the air stream and remove foul odors from a granary.