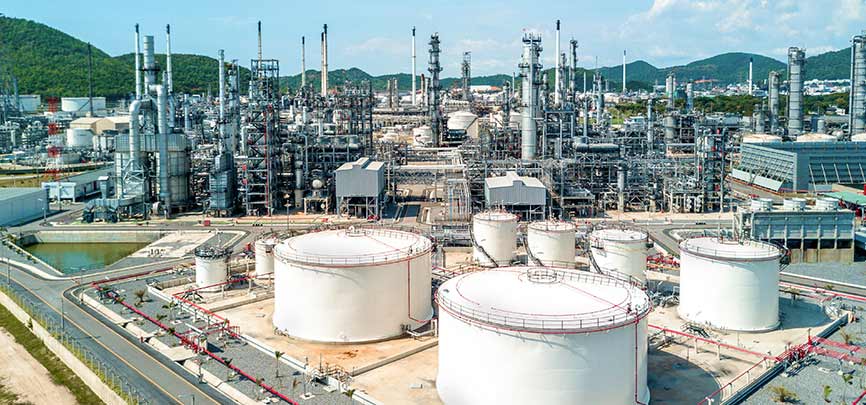 Environmental Solutions for the Downstream Oil & Gas Industry
Water, wastewater, and air pollution control systems for refineries, chemical, and petrochemical plants
Environmental Solutions for the Downstream Oil & Gas Industry
Water, wastewater, and air pollution control systems for refineries, chemical, and petrochemical plants
Application or technical questions?
Meeting today's regulatory requirements for water treatment and air pollution control can be a challenging and costly endeavor. Maintaining market competitiveness does not have to conflict with environmental stewardship. At Monroe, we understand your challenges for creating sustainable solutions for your plant's air pollution control and water treatment operations. We have the experience and expertise to provide you cost-effective systems that never compromise on quality.
Air Pollution Control
Acid & alkaline gasses & fumes – NH

3

, H

2

S, HCl, SO

2

, HCl, HF

Particulate matter – PM

10

& PM

2.5

Condensables, aerosols, and opacity

VOCs & odor control

Dry & wet dust collection

Oil mist collection
Wet Scrubber Systems

Dry Collection & Filtration

Multi-Stage Systems
Water & Wastewater Treatment
Clarification & separation

Suspended solids (TSS)
Dissolved solids (TDS)
Metals precipitation
Oil separation & recovery
Oil skimming & reclamation

Ammonia & VOC stripping

Mobile water treatment and rentals
Oil/Water Separators


VOC Removal Systems
Air Pollution & Wastewater Experience for Refineries and Petrochemical Plants in the Gulf Coast Region
Refineries, Chemical, and Petrochemical plants use significant amounts of water in their processes. Water consumption can be reduced by optimizing and improving the efficiency of a plant's water and wastewater treatment processes, as well as its wet scrubbing and water consuming applications for air pollution control.
Consider these findings from independent studies:
Oil refineries use about 1 to 2.5 gallons of water for every gallon of product produced. United States, which refines nearly 800 million gallons of petroleum products per day, consumes about 1 to 2 billion gallons of water each day to produce fuel (USDOE, 2006).
According to the United Nations, the energy sector is responsible for approximately 15 percent of global water withdrawals, making the reduction, reuse and mitigation of water a top priority.
Downstream Oil & Gas Industry: Representative Projects and Systems for Pollution Control