Environmental Solutions for the Downstream Oil & Gas Industry
Water, wastewater and air pollution control systems for refineries, chemical and petrochemical plants
Have technical questions about your
downstream oil & gas applications?
Refineries, Chemical and Petrochemical plants use significant amounts of water in their processes. Water consumption can be reduced by optimizing and improving the efficiency of a plant's water and wastewater treatment processes, as well as its wet scrubbing and water consuming applications for air pollution control.
Consider these findings from independent studies:
Oil refineries use about 1 to 2.5 gallons of water for every gallon of product produced. United States, which refines nearly 800 million gallons of petroleum products per day, consumes about 1 to 2 billion gallons of water each day to produce fuel (USDOE, 2006).
According to the United Nations, the energy sector is responsible for approximately 15 percent of global water withdrawals, making the reduction, reuse and mitigation of water a top priority.
At Monroe, we understand your challenges for creating sustainable solutions for water/wastewater treatment and air pollution control for meeting regulatory compliance requirements. We have the experience and the expertise to provide you cost-effective wastewater treatment systems.
Proof of results delivered:
Industry experience and resources
Wastewater experience for refineries and petrochemical plants in the Texas gulf coast region
API Separator to remove free oils and solids from plant runoff wastewater at an aviation lubricants plant in Louisiana. The system included an elevated tank, energy dissipating influent, solids collection and surface skimming conveyor with controls, oil removal mechanism, and effluent collection. It was rated for 100 GPM.
API Separator for primary oil water separation of refinery wastewater for a deep-conversion facility in Louisiana. The unit was 150 ft. long and included a cover, explosion protection vents, and was built to API 421 standards. We worked with multiple engineering firms to custom engineer the unit and optimize its operation for the plant.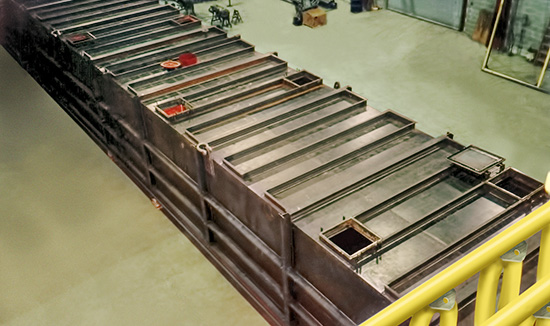 API 421 standards, 140ft. long API Separator rated for 900 GPM for primary oil water separation and solids removal from refinery wastewater. Monroe designed and furnished coated steel separator tank with cover, access hatches, relief vents, solids conveyor with collection hoppers, surface conveyor, drive mechanism, oil removal skimmer with 1,000 gallon collection sump, and interconnecting piping.
Engineering study for a petrochemical complex in Alabama. Tasked to determine the most practical and economic containment methods to control stormwater runoff and overflow from two API Separators at the plant. Considerations included the feasibility of in-ground vs. above ground tanks, pumping requirements, space limitations, process and operational parameters, and construction costs and schedules.
Recent projects for the chemical, petrochemical and oil & gas industries
LindaVH
2017-09-29T13:37:09+00:00
Monroe Environmental recommends packed tower scrubber to a gulf coast chemical manufacturing plant to control odorous fumes from chemical storage tanks.