Many different industries can prevent water pollution by recovering oily waste with a Monroe Oil Skimmer. The Monroe Oil Skimmer operates unattended in any area of tranquil oil accumulation. It will continuously recover floating oil in a condition that permits disposal or reclamation for other industrial purposes. Even the lightest oils from food processing can be easily removed.
Superior Belt Type Oil Skimmer
Removes tramp oil from process liquids
Prevents oil pollution
Recovers valuable oil products
Minimum maintenance
The Monroe Oil Skimmer is heavily constructed for industrial applications and consists of an endless belt, an electric motor and drive unit and a complete enclosure. The belt is suspended from a pulley, with the lower portion immersed in an oil supporting liquid. As the belt descends into the liquid, the floating oil adheres to both sides of the belt. Self-adjusting wipers mounted in a staggered position wipe the oil from the belt. The recovered oil drains into a trough for deposit into a storage tank or containers.
Why buy some rinky-dink skimmer that will last one year, and then need to be replaced?  Buy an oil skimmer that will last 30 years! — The Monroe Oil Skimmer

Successful Oil Skimmer Installations
American Axle
Delta Faucet
DTE Energy
Durr Industries
Ford
General Motors
Koch Foods
Mazda
Owens Corning
Owens Illinois
Pitney Bowes
Standard Oil
US Air Force
US Steel Corp.
Whirlpool
And many others
Oil Skimmer Product Features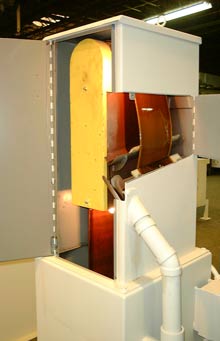 The Monroe Oil Skimmer features a totally enclosed drive unit mounted inside the housing. The compact design provides easy drive access, excellent drive protection and maximum personnel safety. The entire drive unit is protected from weather, dirt and contaminants.
The Monroe Oil Skimmer is provided with a full-width hinge door for easy access to all working components. The endless belt can be removed for repair or replacement without disassembling the unit, minimizing maintenance. The wiper assembly is self-adjusting to compensate for wear. Constant pressure and alignment with the belt are assured.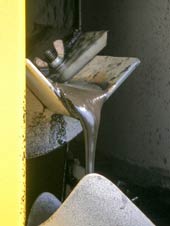 The Monroe Oil Skimmer incorporates a specially designed drive pulley that eliminates belt tracking problems. Unlike other recovery units, periodic tracking adjustments are not required on the Monroe unit. This unique feature eliminates complicated adjustable bearing assemblies and their associated maintenance procedures.
Heavy gauge steel construction with welded seams and lifting hooks provides rugged durability. Special construction materials and coatings are available.
Large, easy to open access doors for all serviceable areas.
Heated enclosure. For use in extreme cold the 12″ and 24″ models can incorporate insulated panels and an electric infrared or steam heater.
An optional controller is available for variable speed operation.
Complete electrical controls to meet customer requirements are available.
Oil Skimmer Applications
Organic & synthetic fluids
Resources & Literature
Recent Case Studies
Monroe Environmental
Monroe belt skimmer retrofit for oil reclamation from underground wastewater holding tanks at America's 2nd largest coal-fired power plant.