Monroe Environmental Attends the Produced Water Society Annual Seminar
Dated February 18, 2019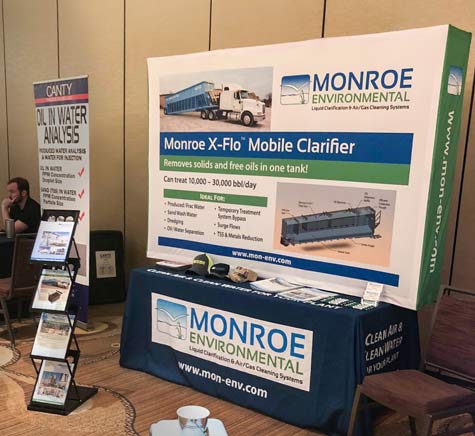 Monroe, MI — Monroe Environmental met with oil and gas professionals at the 29th Produced Water Society Seminar February 5th to 7th in Sugar Land, Texas. The Seminar welcomed 400 produced water professionals for two days of focused technical discussion and networking with the common mission to improve the management and disposition of produced water.
Monroe Environmental Applications Engineer Matt McDonald was on hand to present Monroe's extensive line of water/wastewater and air pollution control equipment.
The booth display featured Monroe's X-Flo Mobile Clarifier™ – a completely integrated mobile clarification solution for temporary job sites and/or bypass operations. The X‑Flo Cartridge allows for the removal settle-able solids as well as floating solids/oils from wastewater & process liquids — something that cannot be achieved with other mobile treatment tanks or plate clarifier systems!
Monroe Environmental has provided systems for produced water and frac water treatment in many regions, including the Permian Basin, Marcellus Shale, and others.