The Monroe Wet Electrostatic Precipitator (WESP) provides high efficiency collection of PM
2.5

, submicron, and fine particulate matter. Monroe Wet ESPs are designed to achieve very low PM emissions with reliable operation and minimal maintenance.
Monroe Wet ESP Design & Operation
Monroe Environmental Wet Electrostatic Precipitator systems are capable of meeting the most stringent PM2.5, opacity, and condensable particulate regulations.
The Monroe WESP is an upflow collector with precision sparking elements and a high voltage electrical field which provide exceptional particulate charging and collection. Integral pre-conditioning sprays, washdown, and optimized liquid management configurations provide efficient cleaning of the collection tubes and ensure long term operation with minimal maintenance.
Incoming gases can be pre-treated with a Monroe Packed Bed Scrubber or Venturi Scrubber to remove acids and larger particulate prior to the WESP.
At the precipitator inlet, a fine mist spray and air straightening section precondition the PM for collection. The high voltage corona, electrodes, and collection tubes charge and separate the PM from the gas stream. Collected solids and liquid drain from the tubes and clean gas exits at the top of the precipitator.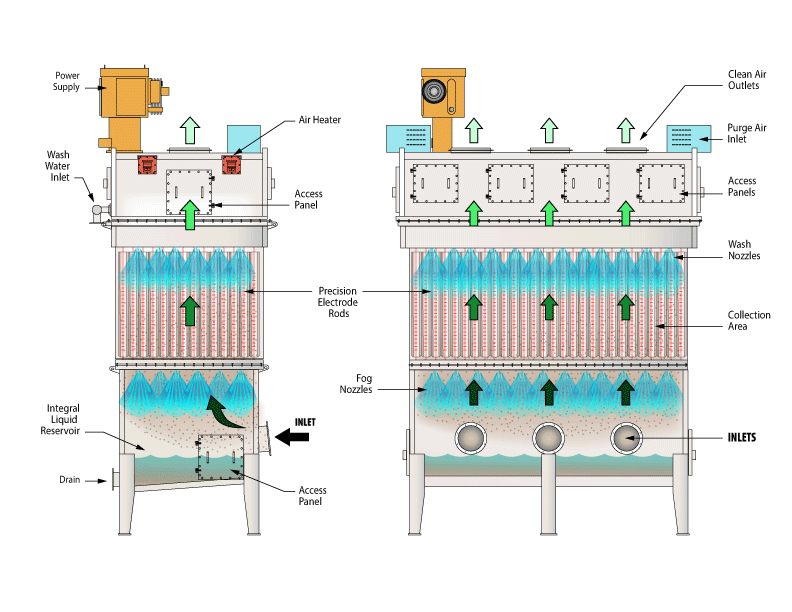 Benefits of a Monroe Wet Electrostatic Precipitator
Lower Operating Costs: Energy usage for a Monroe WESP can be significantly lower vs. alternative higher-pressure PM filtration systems.
Submicron PM Removal: Wet ESPs provide extremely high collection efficiency on PM

2.5

, aerosols, and other submicron PM emissions which are typically the most difficult and costly to collect.
Optimized Water Management: Monroe's wastewater treatment expertise allows us to incorporate systems to achieve continuous removal of solids, oils, and suspended PM. Many configurations are available to suit site requirements.
Reliable Operation: Monroe Wet Electrostatic Precipitators require little maintenance and operator interface. Heavy duty construction, minimal moving parts, and optimized control schema ensure long term reliability.
WESP Designs Customized to Your Application
Monroe Environmental offers the ability to customize the WESP design for a new application or as a retrofit into an existing pollution control train. Liquid management, materials of construction, pre-treatment, instrumentation, and controls will be properly configured by Monroe engineers to successfully integrate the Wet Electrostatic Precipitator into your plant.
Several materials of construction available for compatibility with gas stream or available liquid streams
Liquid reservoirs with customizable configurations and control schema as integral or stand-alone systems
Pump, piping, and valves to suit customer preferences and layout requirements
Instrumentation and controls offered as standard package or built to customer specifications
Integration with other Air Pollution Control Equipment is possible with Monroe's engineering and application expertise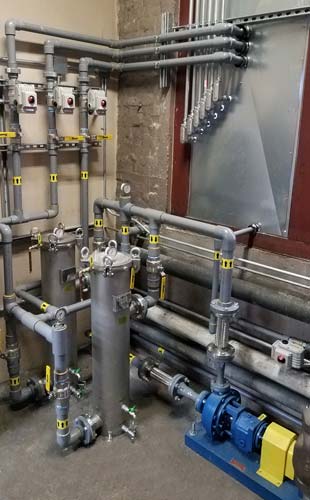 Wet ESP Applications
Biomass & fertilizer production

Wood fiber, cellulose, & pulp
Resources & Literature