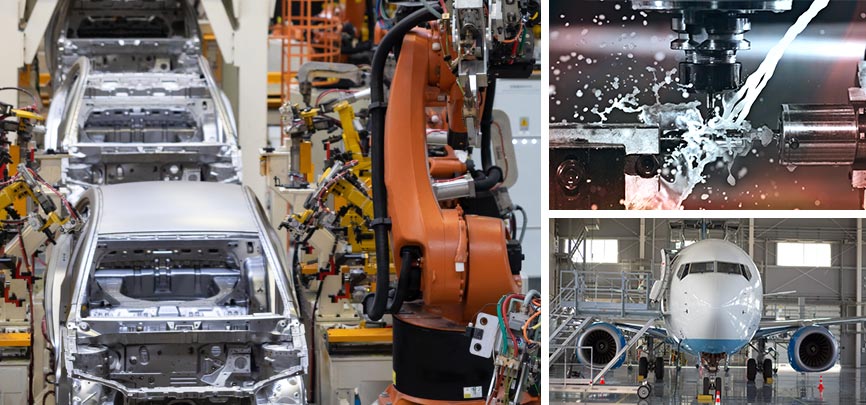 Environmental Solutions for the Automotive, Aerospace, and Machining/Automation Industries
Systems for air pollution control & water/wastewater treatment
Environmental Solutions for the Aerospace, Automotive, and Machining/Automation Industries
Systems for air pollution control & water/wastewater treatment
Application or technical questions?
Automotive and Aerospace industries are two of the most regulated industries in the US. Many manufacturers in these industries are faced with the challenge of complying with a multitude of strict environmental regulations while still being competitive.
Treating liquid waste from these industries poses a set of unique challenges. Producing parts out of a variety of metals and composite materials generates high levels of effluents in waste, rinse, and process waters. Oily wastes and high metal content in the wastewater must be treated correctly before it can be recycled or disposed.
As air pollution control and water treatment experts, we have many successful installations that have continued to perform well for decades. We have the knowledge and the proven expertise to provide cost-effective solutions for a range of applications in the Automotive, Aerospace, and Machining/Automation industries.
Monroe Can Help
For nearly 50 years Monroe has designed and manufactured a variety of Air Pollution Control and Water & Wastewater Treatment systems for the Automotive, Aerospace, Machining, and Automation industries. Our very first project was developing a solution for a difficult oil mist collection problem at an automotive plant.
Proof of results delivered:
Air Pollution Control
Machining – wet and dry

MQL Machining

Parts washer exhaust

Grinding, honing, polishing and buffing

Gear hobbing

Odor and fume control

Flame laminating and stamping

Casting and forging operations
Wet Scrubber Systems

Dry Collection & Filtration

Multi-Stage Systems
Water & Wastewater Treatment
Metals reduction and removal

Solids (TSS) reduction and removal

Oil separation and recovery

Sludge thickening and de-watering

Coagulation, flocculation, and chemical precipitation

Stormwater runoff
Oil/Water Separators


VOC Removal Systems
Automotive, Aerospace, and Machining Industries Experience: Representative Projects and Systems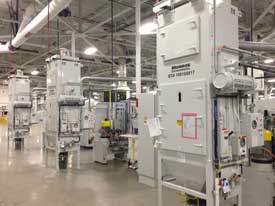 Cartridge Dust Collectors for dust filtration from grinding operation at an automotive manufacturing facility. Each unit is rated for 1,200 ACFM and features automatic reverse pulse cartridge cleaning and final HEPA filter to meet stringent emission limit.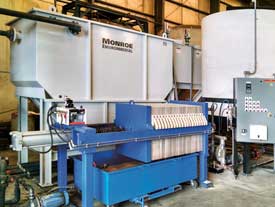 Horizontal Plate Clarifier for wastewater treatment system to remove solids, metals, and oils from e-coating operation wastewater. Monroe supplied turnkey installation of the system, which was rated for 50 GPM.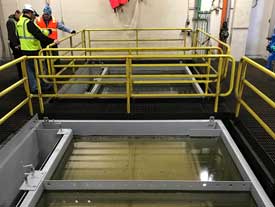 Two CPI Separators for stormwater oil/water separation were custom designed to fit perfectly onto the existing footpads and match up to existing influent, effluent, and sludge piping, saving the customer significant time and money.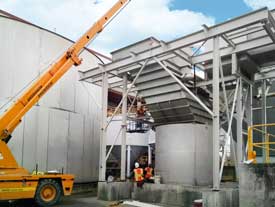 One of two Lamella Plate Vertical Clarifiers with integral sludge thickeners for an automotive assembly plant's wastewater treatment system. The clarifiers were 304SS construction and rated for 500 GPM each.