Monroe Environmental's Circular Thickeners are designed to receive waste sludge from various unit processes and prepare them for dewatering and other sludge conditioning processes. Thickeners reduce the volume of sludge which reduces the cost associated with dewatering and disposal. They require higher torque ratings than similarly sized circular clarifiers because of higher sludge concentrations and densities.
Circular Thickeners for Sludge Processing
Circular Thickeners provide a crucial treatment step between upstream process screens, clarifiers, and separators and downstream dewatering and sludge conditioning processes. A well-designed thickener provides storage and equalization, reduces the volume of sludge streams, and increases their solids concentrations. This allows for more economically designed dewatering and sludge conditioning systems, reducing capital and maintenance costs.
Thickeners are similar to other clarifiers in appearance and operation, however, they are located at a different stage in the overall water/wastewater treatment process and are used to achieve different objectives.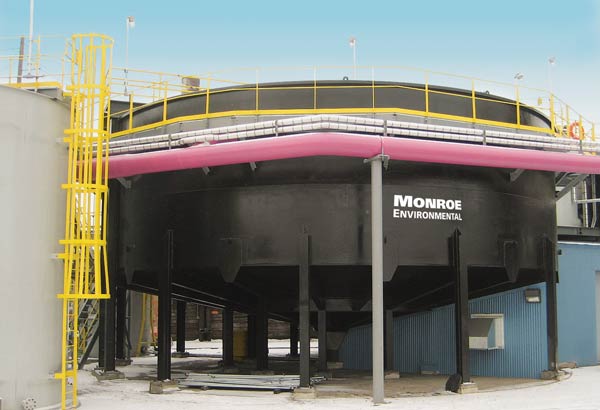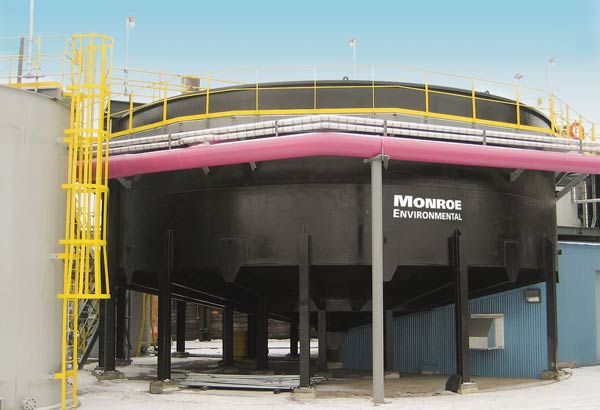 Thickeners receive the waste streams from screens, clarifiers, separators, and other water treatment processes and further concentrate the sludge. Typical incoming solids concentrations are between 0–3% solids. Thickened solids concentrations are typically between 3–6%, however higher concentrations can be achieved depending on process conditions.
Circular Thickeners are commonly found at municipal water and wastewater treatment plants, steel mills, refineries, chemical plants, power plants, and most manufacturing plants with wastewater treatment equipment.
Drives and Sludge Collection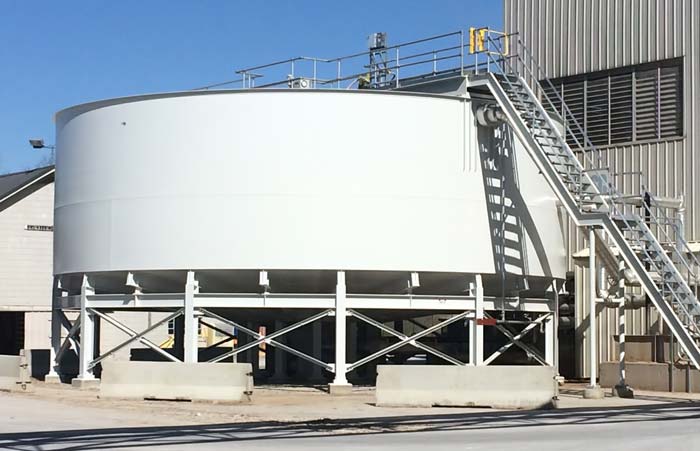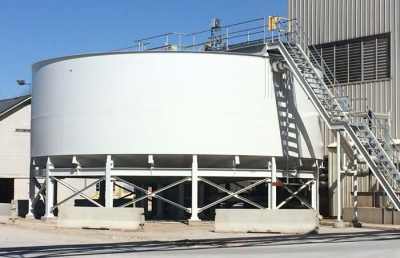 Circular Thickeners require higher torque ratings than other clarifiers due the nature of the solids treated. Higher sludge densities and loadings require more durable collection systems that can stand up in these heavy, often abrasive sludge streams.
Monroe Environmental incorporates durable high-torque drives and bottom scraping rakes that will continuously remove thickened sludge. The rake employs multiple bottom scraping blades that are angled to ensure that all settling sludge is captured and brought to the central sludge well.
Thickening pickets and drive lift mechanisms are often utilized when sludge properties warrant additional mechanical agitation.
Monroe offers both cast iron worm gear and fabricated steel precision gear drive assemblies.
Sludge level detectors, underflow pumps, and related piping and instrumentation can be provided to complete a thickener design package.
Skimming and Scum Removal
Floating matter in varies in thickening applications but can include includes grease, oils, leaves, plastics, scum and foam.
Typically, floating matter is skimmed by a skimmer arm that is supported by the sludge rake and rotates with it around the tank. The floating matter is pushed over the beach plate by the wipers attached to the skimmer arm and into a scum box attached to the tank wall. Collected material then travels to the scum outlet piping. Other arrangements such as anti-rotational scum baffles, ducking skimmers, and full radius collection troughs are available.
The unique design of the Monroe 3–axis pivoting scum wiper blade ensures constant contact with the scum beach, providing the highest scum removal efficiency possible.
Thickener Designs
Monroe can provide internals only for concrete tanks or totally integrated steel tank thickeners depending on site preferences.
Above ground steel tank, concrete floor

Above ground steel tank, on legs

Above ground concrete tank
Resources & Literature
Recent Case Studies
Monroe Environmental
Monroe Environmental saves steel mill $145,000 on clarifier rebuild/retrofit for blast furnace wastewater and meets stringent performance requirements.
Monroe Environmental
Monroe Circular Thickener Clarifier provides effective separation of dense, sticky solids from gypsum wastewater.