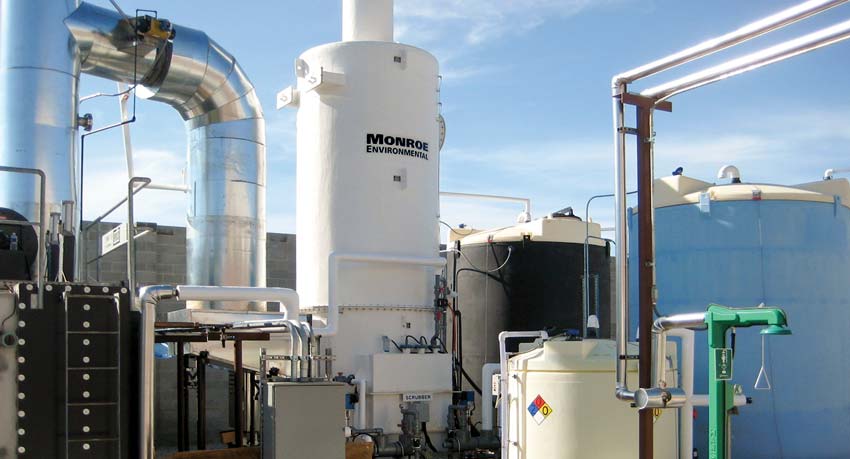 Leader in Air Pollution Control Systems
Does your plant need to reduce emissions?
Acid & alkaline gasses

Particulate matter – PM 10/2.5

Condensables, aerosols, & opacity

VOCs, odor, & fumes

Oil, mist, & dust
Monroe Environmental designs and manufactures custom air pollution control systems and equipment for eliminating and minimizing a wide spectrum of air pollutants and regulated emissions from virtually all types of sources and applications.
Have technical questions about air pollution control systems?
Air Pollution Control Applications & Process Experience
Monroe Environmental has extensive experience with a wide variety of applications and processes for air pollution control. Click on a pollutant below to learn more about our approach to treating these contaminants.
Acid and alkaline gas fumes can be produced in a variety of manufacturing, storage, mixing, and production processes. They are toxic, corrosive, and difficult to control.
Monroe has extensive experience capturing and neutralizing acid and alkaline gasses using the following technologies:
Common pollutants treated include sulfur dioxide (SO2), hydrogen sulfide (H2S), hydrogen chloride (HCl), hydrogen flouride (HF), ethylene oxide (EtO), and ammonia (NH3).
Particulate matter is one of the most common pollutant groups found in nearly every industrial manufacturing and production process. It includes both solid particles and certain liquid droplets.
Physical characteristics (wet, dry, sticky, solid, liquid, vapor, etc.) as well as chemical make-up of the particulate must always be evaluated in order to determine the most appropriate control equipment. Additional factors such as application, moisture content of the air/gas stream, regulatory requirements, and other pollutants present also significantly impact control device selection.
Recent changes to many emissions regulations have made PM2.5, sub-micron, and condensable particulates of special consideration. Monroe Environmental has the experience and expertise to meet these demanding requirements.
Monroe offers the following systems for particulate matter collection, filtration, and reduction:
Explosive Dust Collection is a specialized area of particulate matter collection. Monroe has decades of experience controlling explosive dust. Check out our Explosive Dust Collection page to learn more.
Monroe Environmental has the expertise and equipment to properly handle difficult to remove condensables, aerosols, and other sub-micron particulates and liquid droplets that negatively affect opacity as well as PM, acid, and related emission rates.
Temperature adjustment of the gas stream is often a required step to ensure that condensables are removed prior to coalescing and filtration with media or electrostatic charge.
Monroe's systems and equipment include:
Volatile Organic Compounds (VOCs) as well odorous compounds can be removed from process exhaust via wet scrubbing, dry adsorption, and thermal destruction. Each of these has pros and cons which must be weighed according to a variety of factors including pollutant loading, gas volume, utility costs, and others. Monroe Environmental can assist with evaluating the process specifics and recommend the most cost-effective solution.
Our systems and equipment include:
Contact a Monroe Environmental applications expert for more information.
Mist Collection covers an expansive list of applications from machining, parts washing, cold rolling and hot temper mills, food processing, and many others. Monroe Environmental is a worldwide leader in mist collection, with a variety of designs to suit any application.
Our systems and technologies include:
Dust Collection is a very common air pollution control application that encompasses collection, filtration, separation, and recovery of dry, wet, and explosive particulates. There are a variety of dry filter media options including bags, cartridges, box filters, metal screens, and countless others that should be carefully selected based on application specifics. Wet Collection is also common for wet, sticky, and waxy particulate and can reduce lifetime operating costs by eliminating filter media. Explosive dust can be handled with either wet or dry collection.
Our systems and equipment include:
Contact a Monroe Applications Engineer for assistance with evaluating the best technology for your application.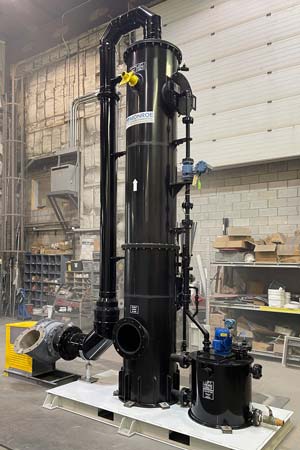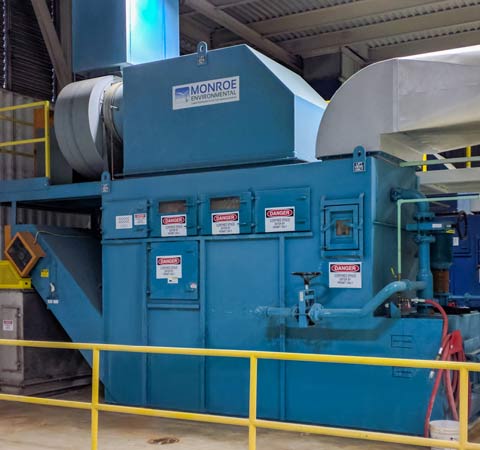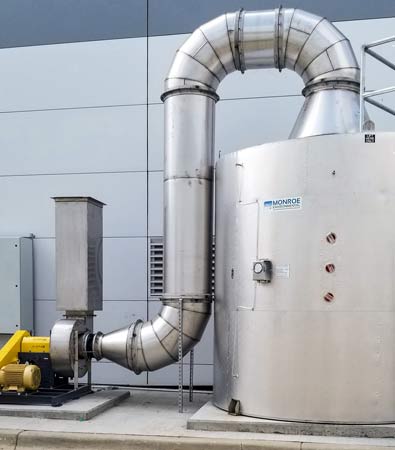 Value-Added Engineering, On‑Site, and Support Services
Monroe also offers a variety of engineering, assessment, evaluation, and design services to help engineers, operators, and plant personnel get the most out of their air pollution control systems.
Air Pollution process assessment

Scrubbing system evaluations

Mist/Dust Collector evaluations

Performance and compliance testing

System rebuilds and retrofits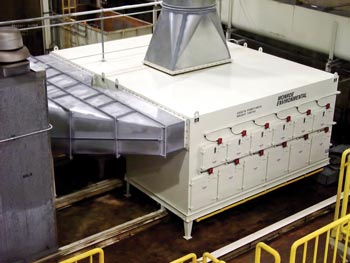 Industries Served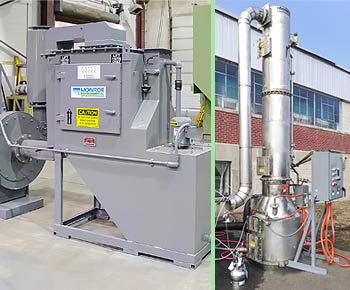 Rental, Pilot, and Testing Programs
Resources & Literature
Recent Case Studies
Monroe Environmental
A high-production manufacturing facility that makes engines for heavy-duty construction equipment was expanding operations and needed to control mist, fumes, and dust generated from various machining, grinding, and polishing centers on the plant floor.
Monroe Environmental
A zinc strip rolling mill was having repeated issues with its existing fume/mist collection system – short filter life and frequent maintenance events – which added up to too much $$ being spent.
Monroe Environmental
Monroe Environmental is expert in troubleshooting and rebuilding a competitor's wet scrubbing system to bring it up to like-new efficiency and performance standards.