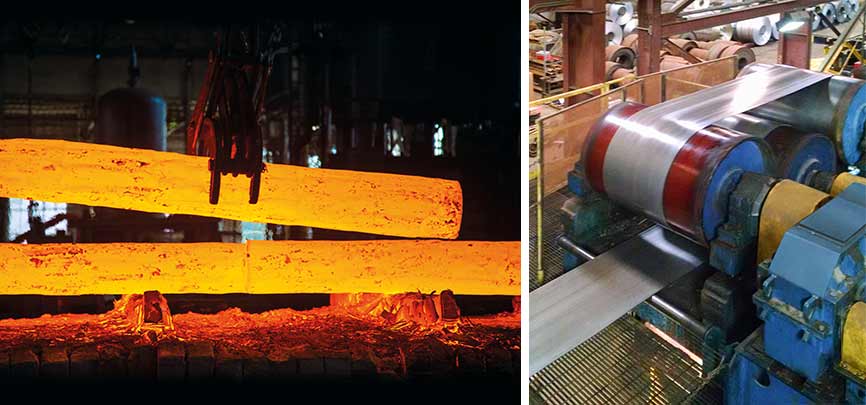 Environmental Solutions for the Steel Industry
Water, wastewater, and air pollution control systems for steel and metal production
Environmental Solutions for the Steel Industry
Water, wastewater, and air pollution control systems for steel and metal production
Application or technical questions?
Monroe Environmental provides custom engineered environmental solutions for a variety of steel industry and metal production processes. Our solutions are cost effective and of the highest quality for heavy-duty operations. Monroe has an impressive client list and a wealth of application experience within the industry, including pollution control systems for mills, mini-mills, smelters, casters, picklers, galvanizers, heat treaters, and many others.
We understand the unique challenges that steel producers and metal refiners face due to competitive forces, aging infrastructure, and strict environmental regulations. Our engineers assist with providing reliable environmental solutions by adapting trusted engineering principles to the specific treatment needs and process requirements of each plant and application.
Monroe Can Help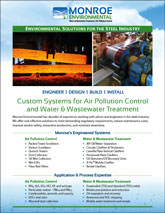 Steel Industry – Overview & Capabilities
Air Pollution Control
Acid & alkaline gasses & fumes – NH

3

, H

2

S, HCl, SO

2

, NaOH, HNO

3

Particulate matter – PM

10

& PM

2.5

Condensables & aerosols

Opacity reduction

VOCs & odor control

Dry & wet dust collection

Oil mist collection

Rolling mill & coil line exhaust
Wet Scrubber Systems

Dry Collection & Filtration

Multi-Stage Systems
Water & Wastewater Treatment
Clarification & separation

Suspended solids (TSS)
Dissolved solids (TDS)
Metals precipitation
Oil separation & recovery
Oil skimming & reclamation

Sludge thickening

Ammonia & VOC reduction

Mobile water treatment

Blast furnace scrubber water treatment
Oil/Water Separators


VOC Removal Systems
Steel Industry Experience: Representative Projects and Systems