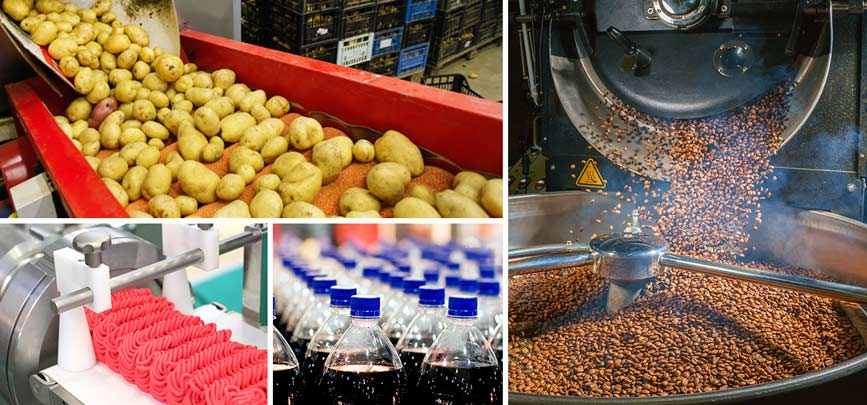 Environmental Solutions for Food and Beverage Production
Water, wastewater, and air pollution control systems for the food manufacturing industry
Application or technical questions?
Monroe Environmental has extensive experience working with plants, engineers, and operators in the food and beverage industry. Food production creates a variety of liquid wastes which often contain high levels of FOG (fats, oils, and grease), starch, BOD, and solids which require modified treatment processes compared to other wastewater treatment applications. Correctly targeting each pollutant for economic and efficient treatment is of upmost importance.
Air pollution can be a serious challenge for in-plant operations (OSHA regulations) and exhaust emissions (EPA permits). Oils, particulate, moisture, and acid/alkaline gasses are often simultaneously present in a production process. Each of these requires special consideration for proper capture, filtration, neutralization, and disposal. Monroe Environmental understands successful air pollution control of common production equipment such as dryers, ovens, cooking kettles, spray coating lines, and many other processes which produce irritating and harmful constituents.
Monroe is well versed in specific industry requirements such as utilizing food-grade motors, instrumentation, and materials of construction (stainless steel, etc.). We have the experience necessary to offer custom treatment solutions for difficult applications where conventional treatment systems have failed. We have successfully completed projects for the following food and beverage production processes:
Breweries
Soft drink production
Wineries
Cheese production
Bottling
Food packaging
Lunch meat
Vegetable cleaning & packaging
Beet sugar
Cane sugar
Rendering & tanneries
Potatoes, corn, and snack chips
Sauce cooking & condiments
Candy & desserts
Beef, pork, chicken, & fish processing
Frozen snack foods
Pet/animal food
Monroe Can Help
Monroe Environmental has successfully engineered, fabricated, and installed countless air pollution control and water treatment systems for food and beverage production plants.
Proof of results delivered:
Air Pollution Control
Acid & alkaline gasses & fumes – NH

3

, H

2

S, HCl, SO

2

, HF

Particulate matter – PM

10

& PM

2.5

Condensables, aerosols, & opacity

VOCs & odor control

Mist & dust collection

Dryer & oven exhaust
Wet Scrubber Systems

Dry Collection & Filtration

Multi-Stage Systems
Water & Wastewater Treatment
Suspended (TSS) and dissolved (TDS) solids

FOG/oil separation and recovery

Metals precipitation and reduction

Ammonia and VOC stripping

Mobile water treatment and rental clarifiers

Filtration and dewatering
Oil/Water Separators


VOC Removal Systems
Food & Beverage Processing Experience: Representative Projects and Systems