Factory Refurbished Pollution Control Equipment for Sale
Monroe Environmental designed and manufactured equipment for Air Pollution Control and Water and Wastewater Treatment is known for quality and long service life. The systems below have been previously owned, but have outlived their original use; or were offered as rentals for pilot testing or trial units. They are now available for sale at reduced prices.
Each system comes with a (1) year warranty and has been cleaned, refurbished, and tested by Monroe experts.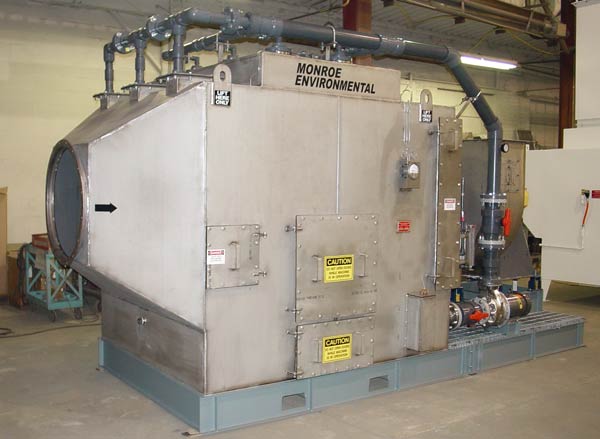 Materials of Construction
| | |
| --- | --- |
| Scrubber Shell, Pump, Fan Box | Stainless Steel |
| Packing & Mist Eliminator | Polypropylene |
| Pipe, Fittings, Valves | PVC |
| System Skid | Coated Steel |
Materials of Construction
Scrubber Shell,
Pump, Fan Box
Stainless Steel
Packing &
Mist Eliminator
Polypropylene
Pipe, Fittings,
Valves
PVC
System Skid
Coated Steel
Horizontal Packed Bed Scrubber – PU-HPB-13500-1
Cross-flow scrubber consisting of a 304 stainless steel scrubbing vessel with recirculation pump, liquid piping, and ID fan mounted on a coated mild steel base. The system includes high efficiency packing media and a demister pad for final liquid droplet removal. The system also includes necessary internal piping, fasteners, access doors, fill/drain connections, and other appurtenances required for correct operation.
A control panel is not included, but can be provided as an option.
Suitable applications include scrubbing SO2, NH3, NaOH, alcohols, alkalis, and general odors.
Scrubbing System Specifications
| | |
| --- | --- |
| Design Flow Rate | 13,500 CFM |
| External Static Pressure for Customer Process | Up to 2″ W.C. |
| Approximate Dimensions | 6.5′ W × 12.5′ L × 8.5′ H |
| Packing Bed Length | 4′ |
| Recirculation Pump Motor | 5 HP, 1750 RPM, 3/60/460V |
| Fan Motor | 20 HP, 1800 RPM, 3/60/460V |
Design Flow Rate
13,500 CFM
External Static
Pressure for
Customer Process
Up to 2″ W.C.
Approximate
Dimensions
6.5′ W × 12.5′ L
× 8.5′ H
Packing Bed
Length
4′
Recirculation
Pump Motor
5 HP, 1750 RPM,
3/60/460V
Fan Motor
20 HP, 1800 RPM,
3/60/460V