The Monroe X‑Flo Mobile Clarifier™ is a completely integrated mobile clarification solution for temporary job sites and/or bypass operations. The system can also be utilized as a stand-alone clarifier. The truly unique patent pending design of the X‑Flo Cartridge allows for the removal settle-able solids as well as floating solids/oils from your wastewater & process liquids — something that cannot be achieved with other mobile treatment tanks or plate clarifier systems!
X‑Flo Mobile Clarifier Design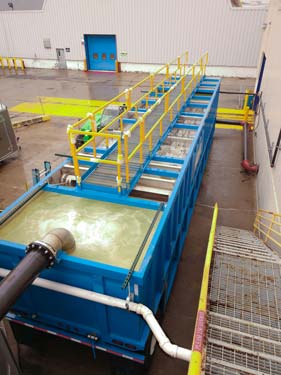 The Monroe X‑Flo Mobile Clarifier™ is designed to be a combination of traditional clarification technologies with standard mobile water storage tanks to produce an economic means of solids separation, oil removal, and waste stream clarification on a job site. It is designed to remove settle-able solids as well as floating solids/oils from your wastewater and process liquids — something that cannot be achieved with other plate clarifier systems.
Heavier Solids Settle, Lighter Contaminants Rise
As the process stream flows horizontally through the cartridge, heavier solids settle on the surface of the plates while lighter contaminants rise on the underside of the plates. The settled solids collect at the bottom of the tank while the floating materials are collected by an adjustable pipe skimmer and are removed from the system. An integral retention baffle prevents the separated floating material from discharging with the clarified effluent stream and aids in the use of the slotted pipe skimmer.
Clarified liquid exits the unit through the effluent box, which consists of an effluent weir, launder, and flanged discharge.
Emergency Mobile Wastewater Treatment: Effective Temporary Bypass Clarifier
Monroe Environmental has taken their diverse application experience and applied it to a growing mobile water treatment industry. We've adapted a tried-and-true clarification technology into a cutting edge new product that will boost efficiency and lower costs for suppliers and end users alike.
Process Features
Removal of floating and settle-able contaminants all in one clarification step
Solids, grit, oil, and scum removal
Co-current cross-flow principal
Still water channels for quiescent zone to prevent re‑entrainment
Design Features
Allows for speedy and efficient installation into mobile tanks
Greatly increases settling surface area within mobile tank
X‑Flo Mobile Clarifier Components
Diffusion Wall — Stabilizes flow and dissipates velocities across to maximize settling
X‑Flo Cartridge — Increases settling area and allows for removal of settle-able and floating contaminants in one simple step. Includes: plate pack, oil skimmer, retention baffle, and adjustable mounting mechanism
Effluent Collection Trough — Allows for take-off of clarified process liquid
Pyramid Hopper — Full length hopper to collect settled solids with multiple ports for sludge pump-out/drain
Optional pre-treatment chemical addition and mixing tanks can be incorporated when required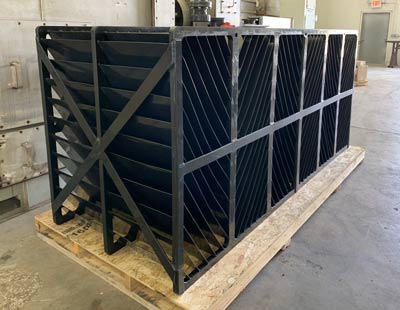 The Monroe X-Flo Separator Plate Pack
The Monroe X-Flo Separator Plate Pack provides exceptional oil separation but also easily sheds solids due to larger spacing between separator plates. The Monroe X-Flo Separator Plate Pack can be constructed from corrosion resistant thermoplastics such as UHMW and Polypropylene, or stainless steel and high-grade metal alloys.
Plate packs can also be purchased for retrofit for many OWS designs. If you have problems with an existing OWS check out our blog post to learn how the X-Flo Separator Plate Pack can improve performance.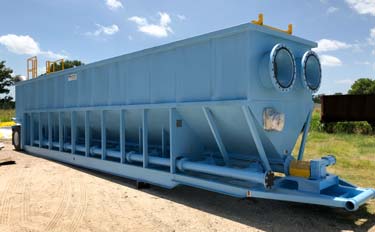 There are many ways to get the Monroe X‑Flo Mobile Clarifier technology to your job site. The complete, integrated clarifier can be sold as a stand-alone system or rented on a monthly basis.
Monroe Environmental custom designs, fabricates, and retrofits wastewater treatment equipment all the time. We are experts. Contact an Applications Engineer today to review your requirements and we'll customize a solution for your application and needs.
Mobile Clarifier Applications
Environmental remediation

Emergency water & wastewater treatment
Resources & Literature
Recent Case Studies
Monroe Environmental
A large energy utility needed to conduct pressurized testing of new gas pipeline. A Monroe X-Flo Mobile Clarifier separated the TSS and clarified the water prior to disposal.