Monroe Environmental can provide complete multi-stage air scrubbing systems for a wide variety of applications. High temperature and volatile chemical processes often require a more complex, customized air scrubbing solution than what a simple packed tower scrubber or venturi particulate scrubber can provide.
Air Pollution Control Expertise
In many cases, several technologies must be integrated together to provide adequate removal and treatment efficiencies. Monroe's experience includes the engineering and fabrication of customized Multi-Stage Scrubbers utilizing the following equipment: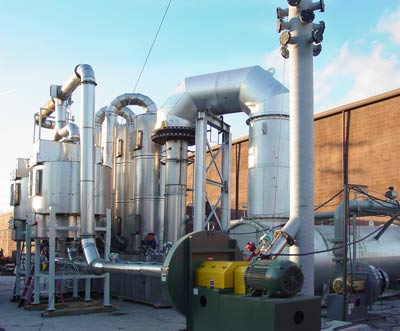 Cyclonic separators
Heat exchangers and temperature controls
Sub-cooling systems
Dry injection fabric filters (DIFF)
Fiberglass filters
WESP and submicron particulate filters
Specialty ducting systems
Customized Scrubbing Solution
Monroe has the experience and knowledge to evaluate your process and recommend a customized scrubbing solution for your specific application. We have successfully treated contaminated air streams from nearly every high temperature emissions application across a variety of industries and processes.
Multi-Stage Scrubbing System Example Configurations
LindaVH
2023-10-06T11:20:17-04:00
Multi-Stage Scrubber to treat HBr, HCl, and HF gas downstream of a thermal oxidizer at a specialty chemical manufacturing facility.
Multi-Stage Scrubbing Systems Applications
Chemical gas incineration

Oven/furnace exhaust scrubbing

Grease & chemical production
Resources & Literature
Recent Case Studies
Monroe Environmental
Monroe Environmental provided a multi-stage wet air scrubbing system for HCl and particulate removal from incinerator exhaust at an industrial waste plant.
Monroe Environmental
Custom designed Multi-Stage System – process gasses treated with a series of scrubbers, and wastewater was treated with a Monroe compact clarifier.
Monroe Environmental
Custom designed Multi-Stage System to provide high efficiency scrubbing of the phenol & formaldehyde, as well as separation and removal of the dust particulate.