About Monroe Environmental
Monroe Environmental has been designing and manufacturing air pollution control and water/wastewater treatment systems since 1970. For over 50 years, major industrial manufacturers and municipalities have come to rely on Monroe Environmental as their preferred source for providing solutions to their air, water, and wastewater pollution problems. Monroe can provide initial evaluation, testing, engineering, fabrication, installation, and on-site support. Monroe has offices in Michigan and Texas.
The company's first project that year was to solve a difficult oil mist problem at an automotive plant. The existing collection system for a large grinding operation was not effective — oil dripped from the ceiling and mist filled the air.
After an evaluation, Monroe designed, built, and installed a new system with source capture hoods, ductwork, and a 30,000 CFM collector.

A Monroe clarifier was also installed to separate and clean the collected oil so that it could be returned to the process, saving a valuable resource.

The Monroe system eliminated the mist problem and provided a clean work area. In addition, collected mineral oil was returned to the process for re-use.

The success of that first installation led to Monroe's emergence as one of the most trusted, reliable resources for in-plant air quality. Over time, Monroe became a worldwide leader in collectors for mist and dust applications across a variety of industries — automotive manufacturing, wet and dry machining, glass/fiberglass manufacturing, tooling, and many others.
As our reputation for well-engineered, high-quality treatment systems grew in the industrial world, so did the scope of our equipment offerings.
Systems for a Variety of Industries and Applications
We designed and manufactured complex wet scrubbing systems — treating a variety of acid fumes, corrosive gasses, odorous compounds, explosive dusts, and other toxic air streams. Learn more about our Air Pollution Control Equipment.
Monroe also implemented numerous water and wastewater treatment systems — engineering and installing plate clarifiers, circular clarifiers, thickeners, oil/water separators, and chemical treatment systems for a variety of industrial applications. Learn more about our Water and Wastewater Treatment Systems.
Fueled by our work in the industrial water and wastewater sector, Monroe began offering its clarification equipment to the municipal market as well, saving new customers time and money on a number of key projects.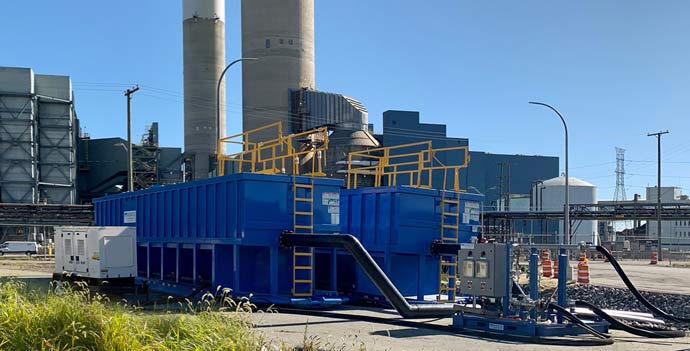 Looking Toward the Future
Monroe Environmental has expanded to include an office in Houston, Texas to better serve the growing needs of the southern USA and Mexico; specifically the chemical, petrochemical, and oil and gas industries. We also have a sales rep in Georgia serving the southeastern states.
These experiences formed the company that stands in place today — an enterprise that prides itself on protecting the environment with high-quality pollution control equipment. Monroe has been a family-owned firm since its inception, committed to honesty, integrity, and above all, the satisfaction of its customers.