Monroe Oil Mist Collectors provide oil mist, smoke, and vapor removal from metal cutting fluids, metal processing coolants, synthetic fiber processing oils, parts washer exhaust, and many other mist applications. Because of our experience, Monroe is able to provide oil mist collection equipment and services to meet in-plant level criteria of 0.5mg/m3 or less. We are the leaders in mist collection technologies for nearly every application.
The Leader in Oil Mist Collectors – Performance and Design
Monroe Environmental has been the premier supplier of Oil Mist Collection equipment for over 50 years. The largest manufacturing companies in the world have routinely looked to Monroe to solve their most challenging in-plant mist problems, and there are several reasons why they keep coming back to Monroe for their Oil Mist Collection needs.
We know that every company and every plant is different. That's why Monroe designs and builds Oil Mist Collectors to meet the specific standards of your unique plant. You provide the standards that you would like your equipment built to, then we provide a unit that meets those standards at a cost comparable to competitive off-the-shelf units.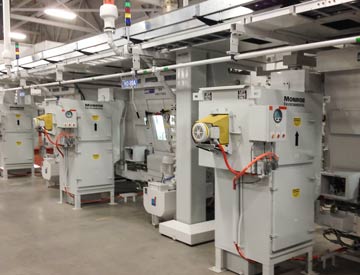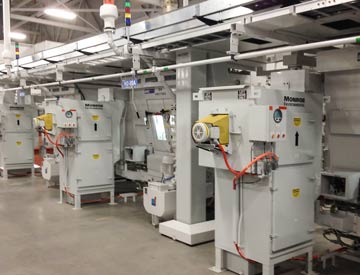 Don't be fooled by the competition — no company in the world can provide a collector that will outperform the Monroe Oil Mist Collector. If you have an underperforming mist collector that was provided by another company, we can help. We know the competition inside and out, and we can evaluate your system and make recommendations to get the most out of your existing equipment.
Oil, mist, smoke, and vapor removal
Efficiencies to 99.9% on 0.3 micron
500–80,000 CFM standard unit capacities, special designs available depending on plant requirements
Ductwork can be provided, including evaluation, recommendations, design, and manufacture
Continuous drain for oil removal and reclamation
Reduced costs associated with maintenance, energy requirements, and climate control
Single units to fit an existing operation, or multiple oil mist collectors for complete in-plant air-quality control
Ergonomic considerations — Ease of access to all key points on the oil mist collector
HEPA filter option is available as final filter stage
Start a plan today for solving your plant's air contamination problems by calling a Monroe Environmental Oil Mist Collection expert at (800) 992-7707, or Contact us via email.
Oil Mist Collector Applications
Resources & Literature
Recent Case Studies
Monroe Environmental
A high-production manufacturing facility that makes engines for heavy-duty construction equipment was expanding operations and needed to control mist, fumes, and dust generated from various machining, grinding, and polishing centers on the plant floor.
Monroe Environmental
A zinc strip rolling mill was having repeated issues with its existing fume/mist collection system – short filter life and frequent maintenance events – which added up to too much $$ being spent.
Monroe Environmental
Monroe Fiber Bed Mist Collectors control & filter off-gasses from asphalt storage tanks prior to gas adsorption.