Horizontal Clarifiers for Coal-Fired Plant Stormwater
A coal fired power plant and its engineers turned to Monroe Environmental for emergency implementation of a stormwater treatment system upgrade. Coal ash and other solids were clogging existing coalescing oil/water (CPI) separators, plugging the coalescing packs, and allowing solids and oil to bypass the system.
After a successful evaluation and pilot test with a rental Monroe plate clarifier, redundant Monroe Horizontal Plate Clarifiers were chosen to properly remove bulk solids and oil from the stream prior to the CPI separators. These clarifiers would properly remove solids and oil, allow for process flexibility and maintenance without needing to come offline, and would improve the efficiency and lifespan of the coalescing media.
Working Within Tight Space Requirements
Monroe engineers and field technicians worked with the site team and engineer to layout the system despite tight space requirements, avoiding existing support beams, piping, cable trays, etc. – but still providing all the necessary access points and system capacities.
Monroe's lead field service technician and design engineer maintained a constant presence at the plant throughout the initial design phase, installation, and start-up (even periodically throughout initial months of operation) to assist plant operators and optimize performance.
As a result, the owner was able to bring their effluent TSS and oil levels into compliance, while simultaneously lowering their maintenance and CPI media replacement costs.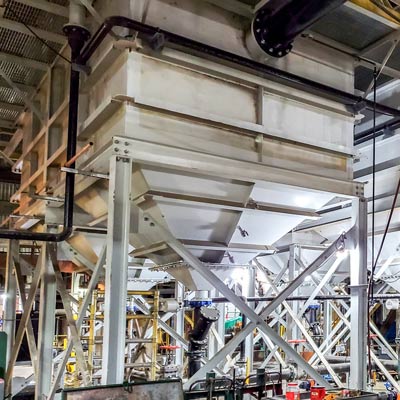 Scope of Supply
Process evaluation and rental plate clarifier pilot test system (prior to capital project)
(1) Flocculation tank/splitter box with redundant mixers
(2) Redundant Horizontal Clarifiers, each with:

High-efficiency cross flow separator plates
Pyramid hoppers for solids collection
Slotted pipe skimmers for oil removal

Oil collection tote
Full perimeter access platform with (2) ladders
Installation oversight and start-up / commissioning assistance