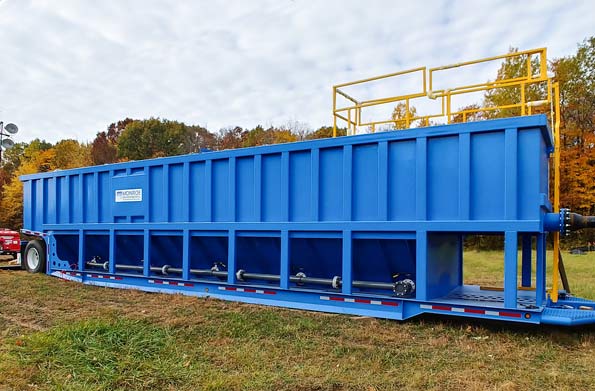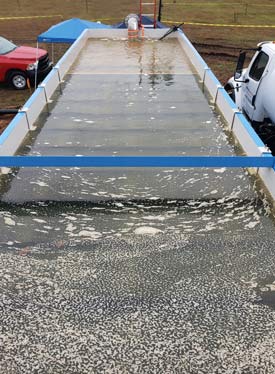 X-Flo Mobile Clarifier™ Provides Mobile Treatment for Pipeline Test
Challenge
A large energy utility needed to conduct pressurized testing of new gas pipeline. The test requires large volumes of water which need treatment prior to disposal. The gas pipe contains iron, residuals, and other impurities that the water flushes out during the test.
The client needed a temporary treatment system set-up to separate the TSS and clarify the water. Additionally, the system needed to be available quickly in order to meet the strict project deadline.
Solution
Monroe Environmental proposed its X-Flo Mobile Clarifier™ to treat the hydrotest water. The X-Flo Clarifier was available for quick rental – so it could meet the timeline – and had the ability to treat the large volume of water (500+ GPM) to an acceptable TSS level for the site.
Monroe worked with the utility, general contractor, and chemical provider to execute the project. The clarifier shipped out quickly and was properly staged prior to installation of the influent/effluent piping and chemical treatment equipment.
Monroe engineers were on-site to oversee the test prep and consult with the chemical provider about treatment options.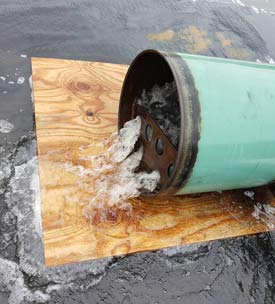 Result
The X-Flo Clarifier received the hydrotest water and provided continuous treatment without the hassle of moving parts or complicated controls. The system provided mixing and flocculation of the treatment chemicals prior to separation of the solids and iron.
The client was able to easily monitor the system's performance from the integral access platform provided with the unit.
The clarifier was able to meet effluent TSS requirements which was a great success.