Dust Collector Captures Exhaust from Sandblasting Operation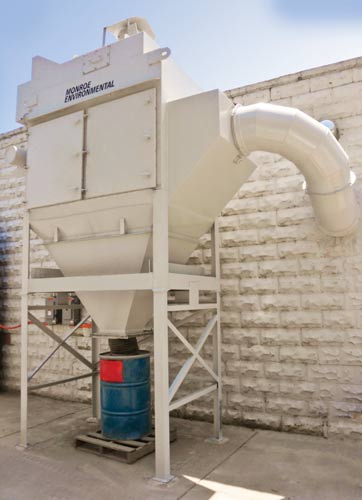 Challenge
A steel fabrication facility had a dedicated bay for sandblasting and painting that required capturing and filtering smoke, fumes, and dust. The sandblast material was an abrasive silica that would pulverize upon contact with the metal surface and create thousands of fine dust particles that would cloudy the air and fill the room.
Solution
Monroe designed and installed a 6,000 CFM Cartridge Dust Collector to capture the exhaust from the sandblast and painting bay. The unit contained long life pleated fabric filters, a AMCA rated fan, a dust collection hopper with slide gate, a storage drum, and a compressed air chamber, as well as all necessary controls and filter monitoring equipment.
The filters in the collector were mounted in a vertical position to ensure that when the collected dust was pulsed from the cartridges it would fall to the bottom of the collector.
Result
The unit was installed outdoors with ductwork running from the interior of the sandblast bay outside to the collector itself. The unit provided the necessary suction required to exhaust the sandblast operation and filter the airborne dust. The filter monitoring gauges allowed the operators to monitor the performance of the filters and replace them as necessary.
The shop technicians on-site who perform the painting and sandblasting were very pleased with the Dust Collector's performance.