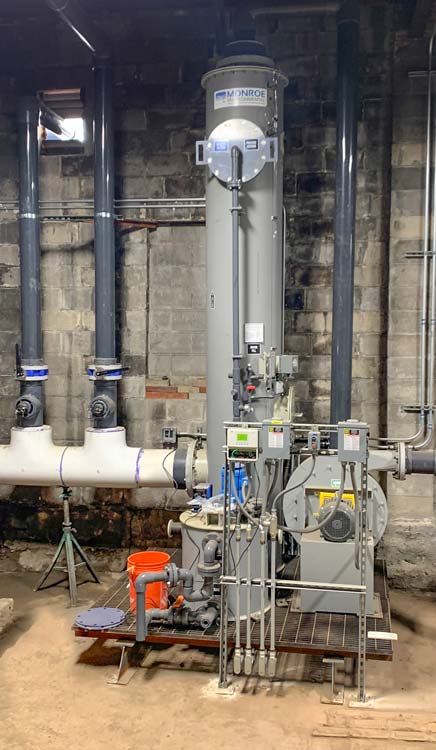 Monroe Packed Tower Scrubber Treats Leachate H
2

S Fumes

An industrial waste treater needed a scrubbing system to absorb H2S fumes and other odors from their wastewater treatment process. The scrubber would be exhausting storage tanks and a newly installed Monroe Vertical Clarifier that was part of the site's PFAS treatment system.

Monroe was able to provide a cost-effective standard scrubber that would efficiently absorb H2S and could ship to the site quickly.

Monroe has several models of standard scrubbers that are sized to fit a variety of lower flow applications (up to 2,500 ACFM). These scrubbers have shorter lead times due to the pre-engineered design and Monroe's in-house fabrication capabilities.
Scope of Supply
Packed Tower Scrubber, polypropylene construction
Liquid reservoir with vertical mount recirculation pump
Liquid recirculation piping, valves, and spray nozzles
High-efficiency packing media and knitted mesh mist eliminator
FRP Fan assembly
Monroe Application Engineers followed up the installation with a site visit to answer any questions and ensure the customer was happy with the performance of the scrubber and the clarifier. Another successful example of Monroe's air and water treatment equipment working well together.
Learn More
Related Projects: