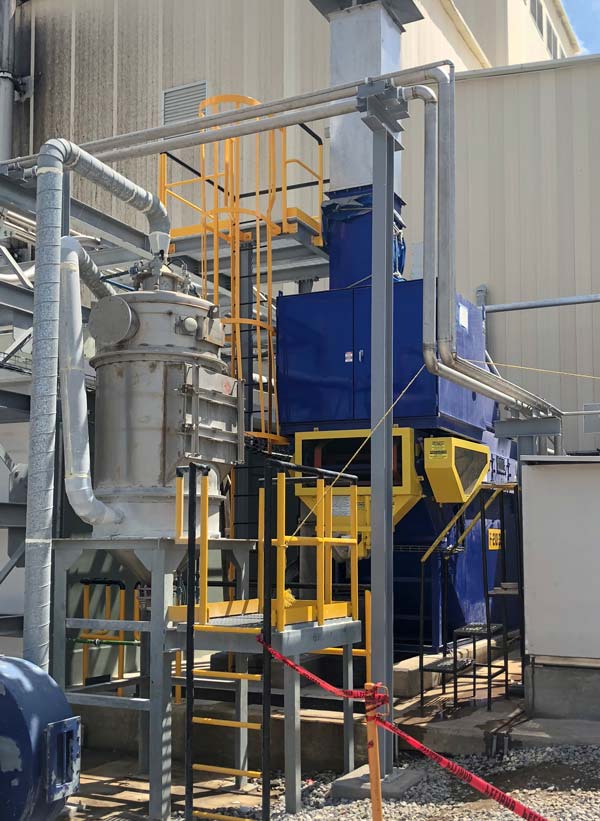 Venturi Scrubber Captures Fumes and Particulate Matter from Plastic Extrusion Line
A specialty chemical and plastics manufacturer needed equipment to treat the exhaust air from three plastic extrusion production lines which included die heads and vacuum pumps. The extrusion processes generated sticky vapors and particulate matter that were difficult to capture and dispose of safely.
Monroe's Dual Throat Scrubber was selected because of its ability to handle the wet, sticky, tacky, and oily particulate generated versus dry filters which are prone to blinding/clogging under similar conditions.
Monroe Environmental engineered, designed, and fabricated a completely integrated scrubbing system capable of handling the fumes and dust generated from the process.
Scope of Supply
Dual Throat Venturi Scrubber
Integral wash liquid reservoir and high flow recirculation pump
Solids handling conveyor for continuous waste removal during operation
Solids collection drum with level switch
Two-stage moisture eliminator for water droplet removal
ID fan with v-belt drive and sound enclosure
The scrubber was successfully installed and allowed the plant to properly exhaust the extruders, meeting local air regulations. The system was rated for 9,400 CFM and 99% removal efficiency of particulate greater than 4 micron in diameter.