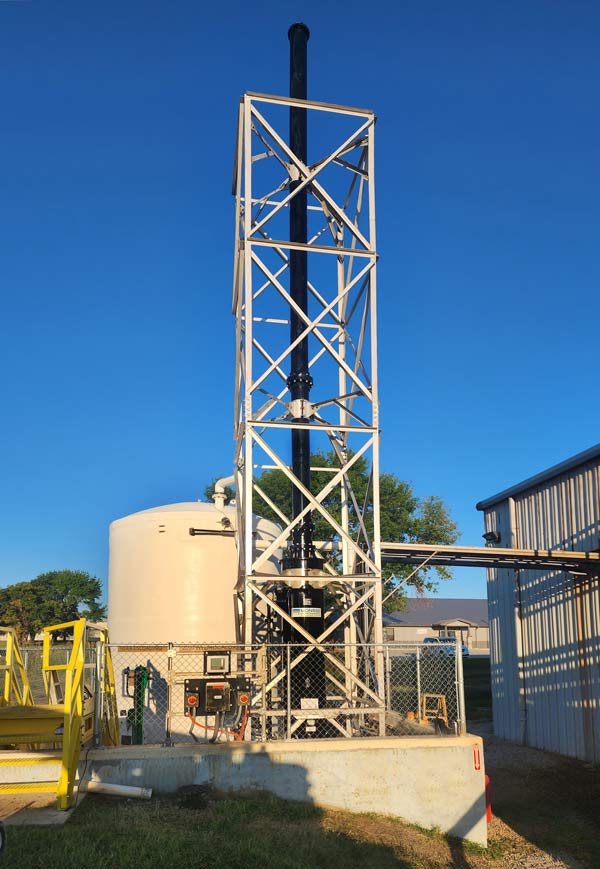 Fume Scrubber Vents HCl Storage Tank
A manufacturer who provides industrial cleaning services was looking to replace a wet scrubber reaching the end of its service life. Although the company had been working with another scrubber vender in the past, Monroe Environmental was determined to better address their project goals, provide better service, and offer a competitive price.
The scrubber was needed to scrub HCl fumes from their bulk tank of 36% HCl. The system was to be located in Missouri and installed outdoors, so freeze protection and an outdoor wind speed design rating were required.
Scope of Supply
1,350 ACFM Polypropylene Packed Tower Scrubbing System with reservoir, packing, mist eliminator, recirculation pump and piping, instrumentation (differential pressure gauge, liquid pressure gauge, level control, conductivity sensor).
Control panel, junction box, and (2) disconnects
Freeze protection including heating elements, heat tracing, and insulation.
Exhaust stack
316SS Support structure with acid resistant coating to lower 12″ of structure
Installation, start-up and training
Monroe has fully supported the site since the unit was installed to fine tune performance and answer any customer questions. The scrubber is operating successfully and is providing appropriate removal during tank filling and typical breathing operation.
Packed Bed Scrubbers can be a sustainable solution for venting storage tanks of water-soluble pollutants. We are able to safeguard the system for high wind exposure or cold environmental conditions. Pleased with its performance and Monroe's quality and support, the company has planned for more Monroe Scrubbers at various locations.