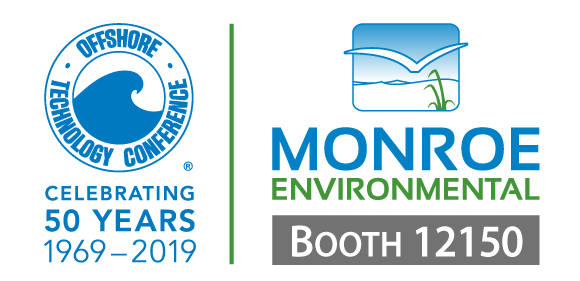 Monroe Environmental Exhibits at Offshore Technology Conference
Dated: April 26, 2018
Houston, TX – Application Engineers from Monroe Environmental's Houston office will meet with energy professionals at The Offshore Technology Conference (OTC) in Houston April 30 – May 3, 2018. Monroe will be showcasing the X-Flo™ Mobile Clarifier as well as their full line of air pollution control and water and wastewater treatment systems.
The Monroe X‑Flo Mobile Clarifier is a completely integrated mobile clarification solution for temporary job sites and/or bypass operations. The system can be utilized as a standalone clarifier or as a retrofit to improve the performance of existing mobile storage tanks. Monroe's X-Flo Mobile Clarifier is excellent for produced/frac water treatment as it combines TSS reduction, metals removal, oil separation/recovery, and sludge handling in a single tank capable of treating 10,000 – 30,000 bbl/day.
The Offshore Technology Conference (OTC) showcases leading-edge technology for drilling, exploration, production, and environmental protection. Monroe Environmental is proud to be part of this event, now in its 50th edition. Visit Monroe in booth 12150.