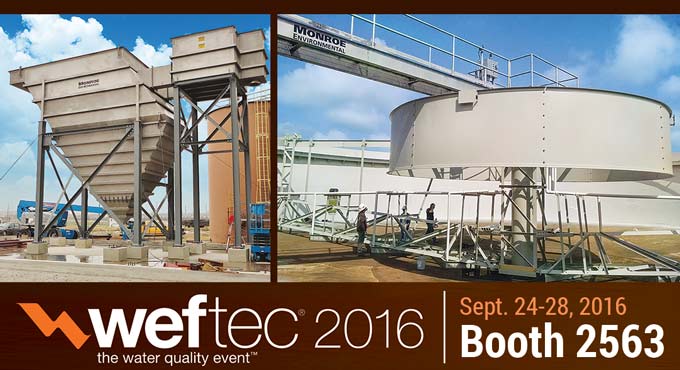 Monroe Environmental Attends WEFTEC 2016
Dated: September 21, 2016
Monroe, MI – Monroe Environmental will be in New Orleans next week to meet with water quality professionals and prospective customers at WEFTEC 2016. WEFTEC will be at the New Orleans Morial Convention Center from Sept. 24-28. Monroe Environmental will be in booth 2563.
Monroe will display working models of the Monroe Circular Clarifier, Parallel Plate Settler, Horizontal Plate Clarifier, and Packed Bed Scrubber. See Monroe's product line of Water and Wastewater Treatment Clarifiers and Separators.
WEFTEC is the Water Environment Federation's Annual Technical Exhibition and Conference and the largest conference of its kind in North America. This year's theme is "Creating the Future with Water". In addition to a learning conference, the event will host more than 1,000 exhibiting companies.
Monroe Environmental has been designing and manufacturing pollution control equipment for over 45 years. They offer complete engineering and fabrication services for a wide range of liquid clarification and air/gas cleaning systems. Throughout their history, they have helped provide clean water and clean air for plants, workers, and communities in Michigan, North America, and around the globe. Monroe Environmental is an ISO 9001 and ISO 14001 registered company.