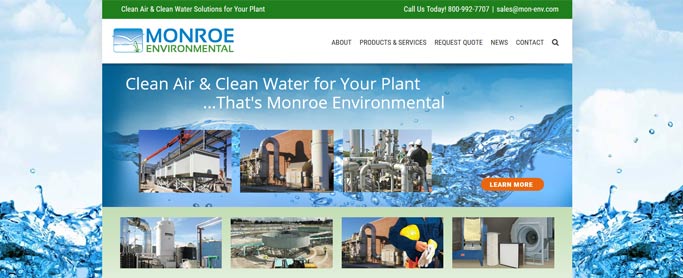 Monroe Environmental Launches Updated Website
Dated: June 2, 2016
Monroe, MI – Monroe Environmental has completed a comprehensive redesign of its website and has successfully launched! This is very exciting for the company, our clients, and all those interested in air pollution control and water/wastewater treatment systems, services, and solutions.

The new site builds upon the great content we have always published, and will more thoroughly convey how we can help industrial and municipal plants achieve their clean water and clean air goals.
Some of the many new features:
Navigation always at the top.  When you view the website from your computer, no matter how far you scroll down the navigation is always available at the top of the screen.
Flow diagrams and illustrations.  Need a larger view? Click image to isolate and enlarge.
Applications sidebar.  A quick glance at the equipment applications.
Tabbed panel sidebar
Tab 1: A listing of other related equipment in Monroe's product line.
Tab 2: Additional resources, PDF literature, and related case studies.
Tabbed panels.  Click through various product configurations without excessive scrolling down the page.
Gallery.  A collection of custom equipment configurations and installations. Click the images to enlarge.
Google Language Translators.  Click on one of the flags at the bottom left corner of the page to read the website in French, German or Spanish.
Please take some time to browse using the navigation links in the white bar at the top of the page. We hope you enjoy the updated website!
Monroe Environmental has been designing and manufacturing pollution control equipment in Michigan for over 45 years. They offer complete engineering and fabrication services for a wide range of liquid clarification and air/gas cleaning systems. Throughout their history, they have helped provide clean water and clean air for factories, workers, and communities in Michigan, North America, and around the globe. Monroe Environmental is an ISO 9001 and ISO 14001 registered company.