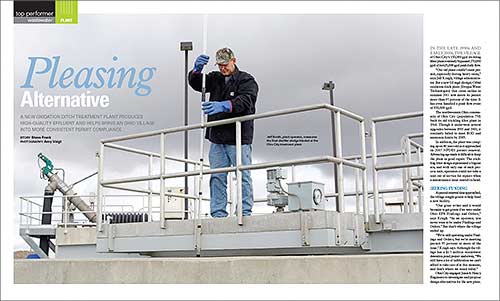 Monroe Environmental Clarifiers Featured in TPO Magazine
Dated: December 7, 2016
Monroe, MI – Monroe Environmental was highlighted in a recent article in the December issue of Treatment Plant Operator magazine. Two 20-foot-diameter clarifiers from Monroe were utilized in the new $2.236 million wastewater treatment plant for the Village of Ohio City Wastewater Treatment Plant.
Monroe Environmental provided the clarifier support/access bridges, drive units, and clarifier internal mechanisms, including inlet feed pipe, inlet well, sludge collection rakes, and surface skimming arms.
The 0.8 mgd (design) plant that came online in summer 2011 now meets its permit more than 95 percent of the time. It has even handled a peak flow event of 930,000 gpd. Before the upgrade, the Village of Ohio City's 150,000 gpd trickling filter plant routinely bypassed 270,000 gpd of its 620,000 gpd peak daily flow in the late 1990s and early 2000s.
Advancing age made it difficult to keep the old plant in good repair. Jeff Krugh, village administrator was quoted in the article, "With the old plant, the water came in and the water went out. Now we can do a better job of cleaning it."