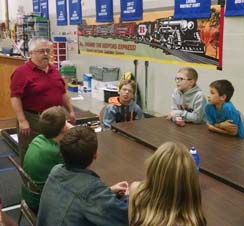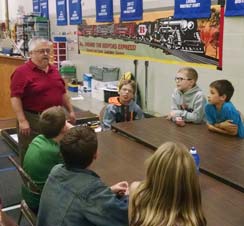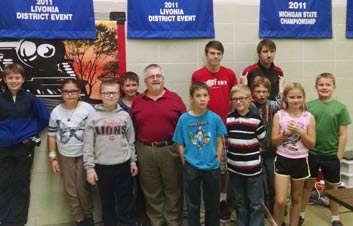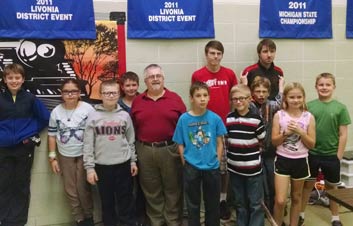 Monroe Environmental Engineer Mentors Local School Robotics Team
Dated: January 7, 2016
Monroe, MI – Monroe Environmental Senior Engineer Dan Walch recently mentored a group of 4th and 5th graders about working with environmental issues and recycling. The group, the "Electronic Eagles" is part of the robotics program at Bedford schools. This program encourages scientific curiosity for students from grade school and junior high, and ultimately design of robotic machines at the high school level.
In the weeks following Dan's presentation, the students applied this knowledge to create a presentation to demonstrate how to make a recyclable package out of cornstarch and water, testing additives of vinegar, glycerin and agar. The presentation was prepared for the Mission Possible Qualifying Tournament held at Monroe High School on November 21, 2015.
The group invited Mr. Walch as their guest to see their presentation at this event. The students won in the category for Innovative Solutions. They then went on to compete in the State Championship on Dec. 13 where they were awarded the second place trophy for Gracious Professionalism.
In his role as an Applications Consulting Engineer for Monroe Environmental, Dan Walch, P.E. specializes in helping manufacturing facilities develop and implement solutions for a wide range of environmental challenges involving air pollution control, wastewater treatment, and hazardous waste management. He is the former president of the State of Ohio's Society of Professional Engineers, and has served on several national committees promoting the cleanup of our water resources. He has worked in the environmental industry for over 35 years and was named the Technical Society of Toledo's Engineer of the Year in 2006, and has received numerous other awards as well.
Monroe Environmental has been designing and manufacturing pollution control equipment in Michigan for over 45 years. They offer complete engineering and fabrication services for a wide range of liquid clarification and air/gas cleaning systems. Throughout their history, they have helped provide clean water and clean air for factories, workers, and communities in Michigan, North America, and around the globe. Monroe Environmental is an ISO 9001 and ISO 14001 registered company.