Air Stripper + Scrubber Skid Rental for Ammonia Removal
An anti-freeze (glycol) recycling center required ammonia removal as part of its recycling process. Ammonia is difficult to strip from liquid because it requires pH > 11, elevated process temperatures, and a very high air/liquid ratio (it takes a lot of air compared to the amount of liquid being treated). This plant requires a full-scale system in the future, but needed short-term capacity immediately.
This was the perfect application to deploy Monroe's Pilot Ammonia Air Stripper Skid. The system is a closed-loop air design which maintains process heat and moisture to help improve the stripping efficiency. Ammonia is removed from the liquid in two stripping towers each containing 10 ft. of packing, while the air is directed to an absorption scrubber to remove the ammonia and recycle back to the strippers. Incoming liquid is heated and pH adjusted in the pretreatment Monroe Horizontal Clarifier before it enters the stripper. The clarifier also provides the benefit of removing suspended solids prior to the stripper, which reduces fouling and maintenance. The entire system is controlled with a PLC.
System Scope of Supply:
Pretreatment Clarifier with mixers and heater
Receiving tank with pH monitoring, feed pump, and flow control
Air Stripper Tower #1 with high efficiency packing media, receiving tank, and feed pump
Air Stripper Tower # 2 with high efficiency packing media, receiving tank, and discharge pump
Scrubber Tower with high efficiency packing media, recycle pump, pH/conductivity controls, chemical dosing pump, and control valves
Recycle fan, FRP construction, with interconnecting ductwork
480VAC control panel with PLC and HMI
System skid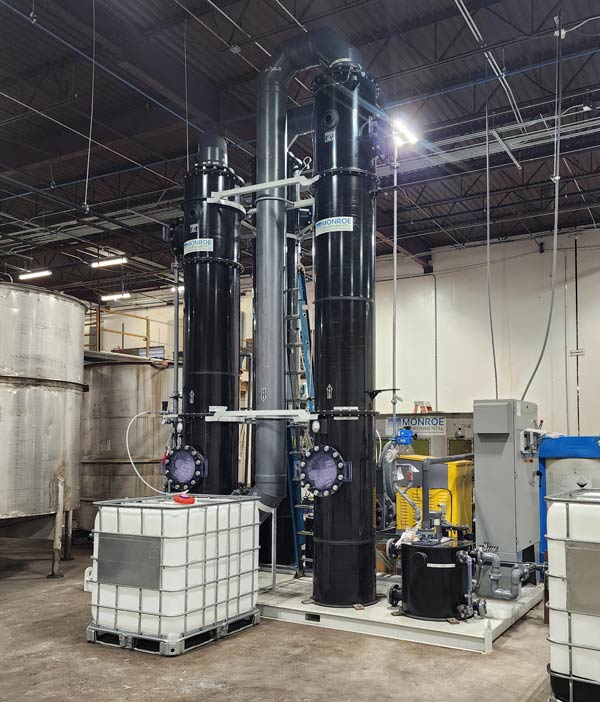 Learn More
Related Projects: