Monroe Environmental is a single source solution for highly durable and efficient Packed Bed Wet Scrubbers. A Packed Bed Scrubber is a wet scrubber that removes acids, soluble gasses, chemicals, fumes, and odors. Contaminated gas flows through a specially designed packing media that is wetted with recirculated liquid. The liquid solvent absorbs the gas pollutant by physical or chemical means. A blowdown from the tank with makeup water addition removes contaminant products before they precipitate.
Packed Bed Wet Scrubber Design
Capacities: 10 to 75,000 CFM with a single unit
Efficiencies to 99.99%
Vertical and horizontal configurations
Counter-flow and cross-flow models
Cylindrical and rectangular construction designs
Pre-quench and venturi stages available
Monroe Environmental offers complete in-house fabrication and engineering services to provide high quality solutions at a low price. Monroe Environmental supports its customers with installation, start-up assistance, training, and field service. Each Packed Bed Scrubber is sized and designed for specific customer requirements. We will evaluate fume removal applications to determine the optimum design parameters for each installation.
Monroe Environmental designs and builds complete scrubbing systems including multiple stages when required. We also design liquid clarification systems and other air cleaning devices, and can provide integrated complete systems.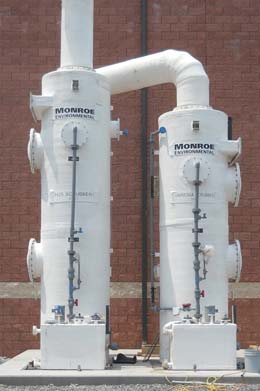 Common contaminates removed by Monroe Packed Bed Fume Scrubbers
Chromic acid
SO

2

Cl

2

, F

2

, Br

2

BCl

3

, BF

3
Formaldehyde
Ethylene compounds
Soluble alcohols, acids, & VOCs
And many others
Materials of construction include:

FRP
RTP (Reinforced Thermoset Plastic) and dual laminate
PVC and CPVC
Polypropylene and polyethylene
Stainless steel, mild steel, and FRP-lined mild steel
Nickel alloys
Titanium

Wide range of packing media including rings and saddles in various materials. Structured packing is also available.
Complete instrumentation and electrical controls are available for stand alone operation or connection with a facility's centralized control or monitoring systems.
Chemical treatment, including oxidation and neutralization, is available to increase absorption of gaseous pollutants. pH control available when applicable.
Corrosion resistant AMCA rated fan on the inlet or outlet side of the scrubber.
Corrosion resistant recirculating pumps for scrubber liquid re-circulation.
Non-plugging spray nozzles for wetting packing in a wide range of corrosion resistant materials. Special liquid distributors may also be used.
Moisture eliminators with chevron, mist pad, or loose fill type designs.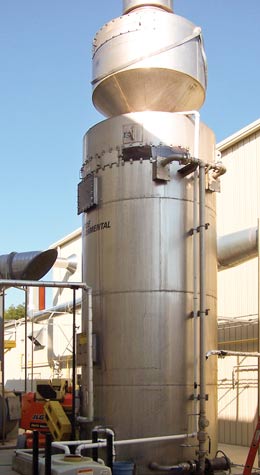 Industrial Odor Control, Efficient Fume Scrubber Design
Monroe Environmental Packed Bed Scrubbers are custom designed to meet or exceed the specific removal efficiency required for each customer's application and process. Monroe can also provide a process simulation for difficult or unique scrubbing system applications. Monroe engineers will optimize the performance of each unit by thorough evaluation of relevant parameters.
To optimize the performance of each unit, Monroe will analyze:
Contaminant solubility
Vapor pressures
Wash liquid flow rate
Liquid to gas ratio
Packing chamber height, diameter, and volume
Packing media type and size
Chemical additives
pH control
Precipitation of reaction products
Multiple solution scrubbing
Required scrubbing stages
Pressure drop across packing
Materials of construction
Site requirements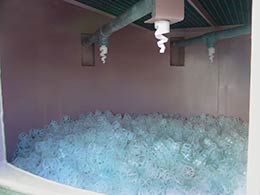 Wet Scrubber Configurations
Vertical Packed Tower Fume Scrubber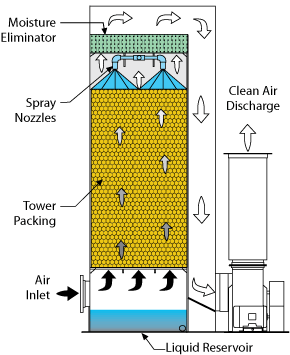 This vertical assembly is a counter-flow design with contaminated gas flowing upwards and recirculating liquid spraying downward into the packing media. Gaseous contaminants are absorbed by the liquid due to solubility levels or by chemical reaction. Counter-flow scrubbers have a smaller footprint and can have higher removal efficiency than a Monroe Horizontal Packed Bed Scrubber.
The vertical counter-flow design typically provides the best scrubbing efficiency of vapors and is the most common design found in most industries. The Monroe Vertical Packed Tower Scrubber is normally not used when solid particulate is in the air stream. Air flow capacity for a single shop fabricated tower can be up to 75,000 CFM.
Horizontal Packed Bed Fume Scrubber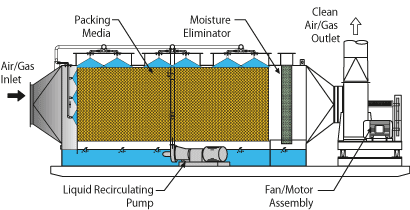 This is a cross-flow design with scrubbing liquid flowing vertically downwards while the gas passes horizontally through the packing section. A Monroe Horizontal Packed Bed Scrubber is used when limited headroom is an issue at a customer's facility or when low profile is desired for roof-top applications. Multiple stages can be easily provided in one housing with separate sumps and pumps if required.
The cross-flow design is less susceptible to fouling for airstreams that may contain solid particulate. Air flow capacity for a single shop fabricated tower can be up to 75,000 CFM.
Chromic Acid Fume Scrubber — Multiple Stage Design
Emissions from chrome plating and chromic acid anodizing operations produce hexavalent chrome mist that cannot be effectively removed in a conventional packed tower scrubber. A modified type of horizontal scrubbing unit using specialized mesh filter pads with periodic flushing is required to meet regulatory guidelines for this contaminant. PVC construction is typical.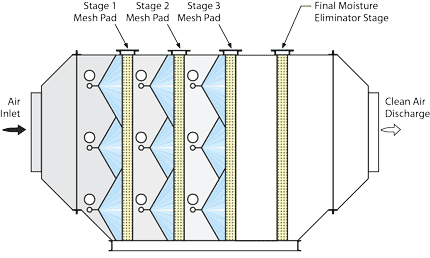 Typical Chrome Applications
Anodizing chrome
Chrome etching
Chrome manufacturing
Chrome stripping
Hard chrome plating
Multi-Stage Air Scrubbing Systems
Multiple scrubbing stages with different scrubbing solutions can be achieved by providing multiple scrubbing towers in series. These configurations can provide the highest removal efficiencies as well as multiple gas constituent removal. The diagram below includes three towers in series that could be used for H2S and ammonia removal.
Additional components that may be necessary to properly treat a given air stream can include:
Venturi Scrubbers with clarification tanks (for particulate removal)
Fiberglass filters
And many others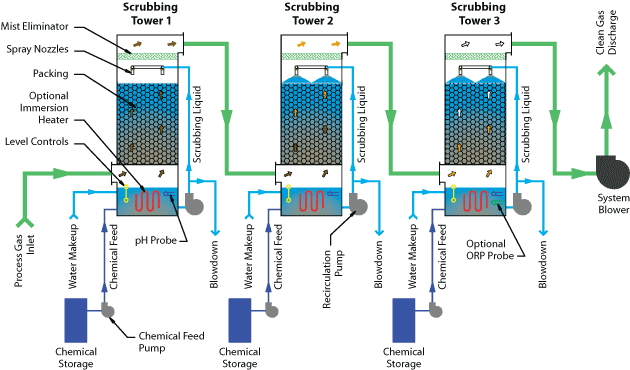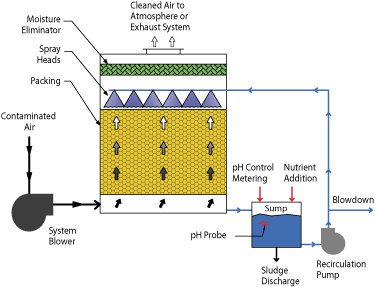 Bioscrubber
A Bioscrubber uses living microbes to consume pollutants from an air stream. This technology will efficiently remove gasses that cause odors at wastewater treatment plants such as H2S, dimethyl sulfide (C2H6S), carbonyl sulfide (COS), and methanethiol (CH4S). Bioscrubbers can effectively remove aldehydes, organic acids, nitrous oxide (N2O), sulfur dioxide (SO2), and a range of water-soluble VOCs.
Advantages of biological air pollution control:
Often less expensive: the pollutants in the air stream feed and sustain the microorganisms that consume them. Avoids the expense of continually adding scrubbing chemicals.
The process is green. It does not produce NOX or CO like combustors do. Chemicals requiring disposal are not generally produced. The products of a bioreaction in which microbes consume hydrocarbons are mainly CO

2

and water.
Monroe Environmental experts will analyze your application to determine if a biological solution is appropriate. Extremes of hot and cold will limit the effectiveness of microbes. Most microbes thrive in a moist environment that is around neutral pH, near 7. Monroe will analyze the variables of temperature, moisture, pH, nutrient mix, and residence time to achieve conditions that will support a microbial population that will efficiently consume and remove the air pollutants that occur in a particular application.
Monroe Environmental will custom-design a biological scrubber for each application and manufacture it in-house. Units may range from a simple bio-filter tank with drain to a complete electronically controlled biological scrubbing system employing blower, liquid pumps, media with supporting structure, and a sump with nutrient addition and pH control to treat water that is distributed to the biological film living on the media.
Packed Bed Wet Scrubber Applications
Landfill and biogas contaminants

Wastewater treatment plant odors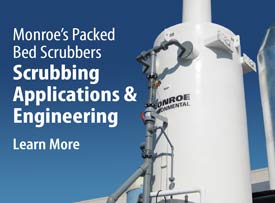 Resources & Literature
Recent Case Studies
Monroe Environmental
Custom designed Multi-Stage System to provide high efficiency scrubbing of the phenol & formaldehyde, as well as separation and removal of the dust particulate.