Environmental Control Systems and Solutions for the Aerospace,
Automotive, and Machining/Automation Industries
Air Pollution Control & Water/Wastewater Treatment Solutions
Have technical questions about your application?
For over 45 years Monroe has designed and manufactured a variety of Air Pollution Control (APC) and Water/Wastewater Treatment (WWT) systems for the Aerospace, Automotive, and Machining/Automation industries. Our very first project was developing a solution for a difficult oil mist collection problem at an automotive plant.
Aerospace and Automotive industries are two of the most regulated industries in the US. Many manufacturers in these industries are faced with the challenge of complying with a multitude of strict environmental regulations while still being competitive.
Treating liquid waste from these industries poses a set of unique challenges. Producing parts out of a variety of metals and composite materials generates high levels of effluents in waste, rinse, and process waters. Oily wastes and high metal content in the wastewater must be treated correctly before it can be recycled or disposed.
As air pollution control and water treatment experts, we have many successful installations that have continued to perform well for decades. We have the knowledge and the proven expertise to provide cost-effective solutions for a range of applications in the Automotive, Aerospace, and Machining/Automation industries.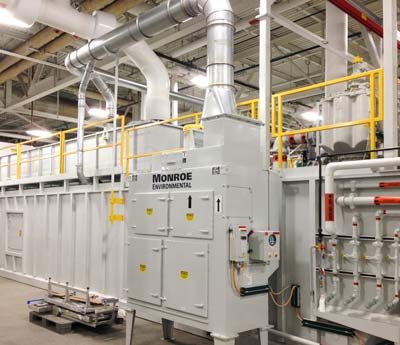 Grinding, honing, polishing and buffing

Flame laminating and stamping

Casting and forging operations
Metals reduction and removal

Solids (TSS) reduction and removal

Oil separation and recovery

Sludge thickening and de-watering

Coagulation, flocculation, and chemical precipitation
Monroe Horizontal Clarifier & Sludge Handling Package Improves Treatability & Lowers Cost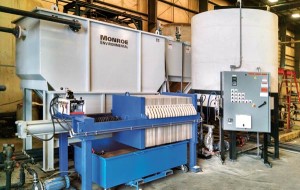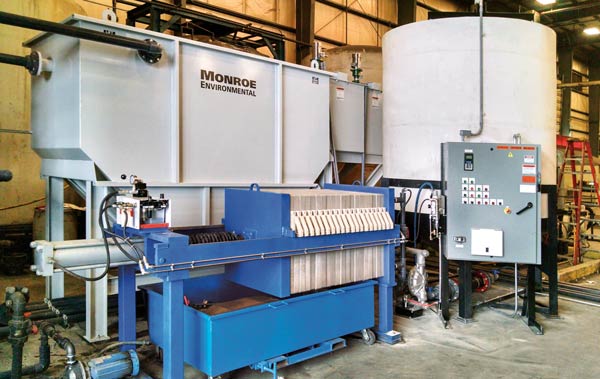 A metal forming and stamping plant needed to upgrade its wastewater treatment system but had limited floor space. They wanted to reduce operation and maintenance costs while increasing the performance and versatility of treatment to remove solids, metals, and oils from an e–coating operation.